Disappearance of Kirchner further splits Argentina's main opposition group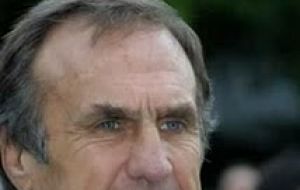 Argentina's main opposition group the so called "Federal Peronism", dissidents from the ruling movement admitted going through a serious "crisis" because of the diverging opinions amongst its leaders, several of them 2011 presidential hopefuls.
Although the differences were latent they definitively surfaced this week when Senator and former Santa Fe governor Carlos Reutemann announced his decision to step down from the ruling board of "Federal Peronism".
One of these hopefuls, Lower House member and former governor of the province of Buenos Aires Felipe Solá admitted "we are going through a minor crisis".
In a release Senator Reutemann said he was stepping down "because of differences inside the group referred to the current political situation".
Senator Reutemann who in spite of his strong public opinion standing has been rather distant about his presidential candidacy for 2011, said that nevertheless he will remain as a member of the Federal Peronism group in congress.
"As Reutemann I also have differences with Federal Peronism. He didn't leave the group, he signalled a strong difference, which I think I know where it comes from, but he continues in the congressional block as Senator", said Solá.
The former Buenos Aires province governor following the death of former president Nestor Kirchner who was also chairman of the ruling Peronist party and the massive expression of popular grief during his funeral, has called on the dissidents' group to "reconsider" the foundations of their (believed to be) political representation.
He did not discard adopting a similar attitude to that of Senator Reutemann.
Another member of the group and presidential hopeful, the governor of Chubut, Mario das Neves admitted he was "stunned" by the announcement of Reutemann.
Das Neves said Reutemann was not pleased with some of the expressions coming from the Federal Peronism group following the death of Kirchner last October 27.
He was particularly emphatic regarding words from Senator Hilda Duhalde, wife of former care-taker president Eduardo Duhalde, one of the dissidents' group leaders (and 2011 presidential hopeful), who stated that the death of Kirchner does not redeem him "of all the things he did to the country and the harm these have generated".
"I don't share resentment in politics. All that is 'anti' or 'against', is not good. There are strong differences with government, we all have them, Reutemann, Solá, Deputy Francisco de Narvaez, myself, but we don't have the same confrontation position or to that extent", said Das Neves.
"I share Reutemann's stance. As Peronists we all coincide and share the need to renew Peronism", pointed out de Narváez another presidential hopeful.
"I'm sure Reutemann like me have not changed our opinions about 'Kirchnerism' but we need to cool down and give Argentines the peace and rest they are asking for", added de Narvaez in a release.
"There are some leaders that still seem to need standing confrontation and others like us, are working for an Argentina united and in peace project", he added.
Federal Peronism is probably President Cristina Fernandez de Kirchner's strongest opposition group and was in permanent confrontation with Nestor Kirchner who moved the strings of the Peronist movement.
However since the disappearance of Mr. Kirchner, (the "glue" which kept the group together), the big differences and ambitions have surfaced, and according to the latest public opinion polls, President Cristina Fernandez position has been reinforced and if she finally decides to run for re-election in 2011 she could, at this stage, beat any of the "dissident" hopefuls.