Random and surprise inspections of fishing vessels docked in Montevideo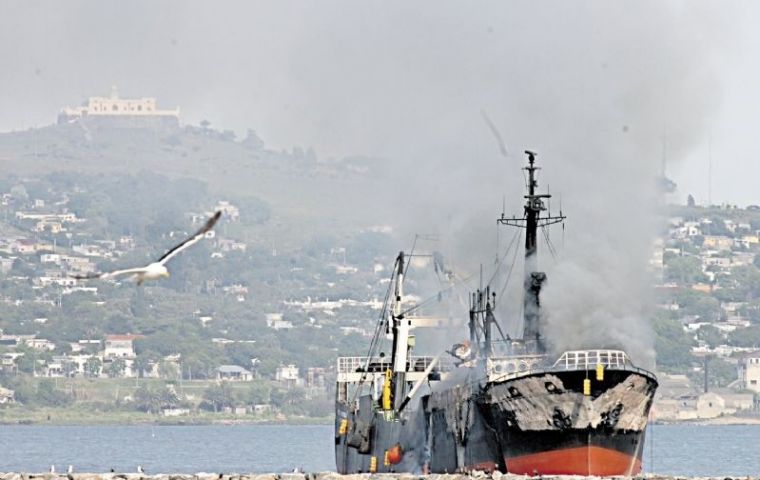 Uruguayan authorities begun this week surprise and random safety inspections of fishing vessels docked in the port of Montevideo following a succession of fire incidents, mostly involving Korean flagged vessels which were described as "suspicious".
Authorities also confirmed that the charred body of a missing (Vietnamese) crewmember was found in the engine room of the Sen Jim XI jigger that caught fire last week and had to be towed out into the bay, apparently a complete loss.
The Uruguayan Navy PR officer Captain Anselmo Borges said that the inquiry into the fires that broke out in three fishing vessel in three consecutive weeks (one Uruguayan and two Koreans) was still under way and no definitive results had been reached.
"Anyhow when this happens it won't be made public. It will up to the magistrates working on the different cases and they will decide", said Captain Borges.
The Uruguayan officer revealed that in three days six random and surprise inspections had been completed with groups made up experts from the Uruguayan Navy, the Uruguayan Ports Authority, the Coast Guard and Fire Department.
Visits last on average three hours and cover from the "structural" condition of the vessel to fire emergency mechanisms and checking if the crew had been drilled for such situations and if they had the appropriate means (hoses, extinguishers, locking compartments, etc).
"There will always be elements to improve in a vessel, it's very hard to find a vessel 100% safety proof", admitted Borges who added that the inspections also included checking all the vessel's and crewmembers documentation, "which takes quite some time".
Borges said priority was given to those fishing vessels ready to leave and among the most common flaw were outdated extinguishers, precarious electric wiring and close to combustible materials and muster rolls in non visible places or in languages not understood by most crew members.
"In one of the vessels, officers were Koreans but the crew from Philippines and Indonesia but the rolls was only in Korean and English" said Borges.
He added that the Uruguayan Coast Guard will not allow the vessels to leave port until a second inspection to check conditions exposed have been addressed.
Borges said that on Friday Minister of Defence on Friday received a copy of the report on all fires that have broken out in fishing vessels docked in the port of Montevideo dating back to 2008.
Uruguayan port, naval and tourism authorities were particularly disappointed because the latest fire incident with a Korean jigger early Monday November 15 forced to cancel the official ceremony for the launching of the cruise season and the vessels with hundreds of visitors had to sail on to Buenos Aires, unable to enter Montevideo for safety reasons.