Petrobras abandons Ecuador: no agreement on new oil contracts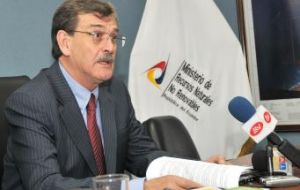 Brazil's Petrobras is abandoning Ecuador after not having reached an agreement on the new oil contracts with the government while Spanish-Argentine Repsol-YPF will remain, announced Minister of Non renewable natural resources Wilson Pastor.
Petrobras was the only major foreign energy company that refused to accept the conditions set by the Ecuadorian government, which is seeking to boost its share of petroleum revenue and ensure that any windfall profits from future oil price hikes accrue to the state.
Ecuador convinced Spain's Repsol-YPF - the country's largest private operator - to accept the new contract terms, although agreement was reached so close to Tuesday midnight deadline that the paperwork was not ready to be signed at the main ceremony at the Non-Renewable Natural Resources Ministry.
Under the new contracts Ecuador's share of oil revenue will rise from 70% to 80%. That represents an additional 5.4 billion US dollars for the Ecuadorian treasury in the lifetime of the contracts, according to Minister Pastor.
The companies choosing to remain in the country also have pledged to invest $1.2 billion, according to Pastor, who said during the ceremony that the results of the contract renegotiations "are very favorable to Ecuador's interests."
Besides Repsol-YPF, other companies signing the new deals were Chile's ENAP; Italy's Agip, a unit of Eni; and China's Andes Petroleum and PetroOriental, while South Korea's Canada Grande and US oil firm Noble Energy joined Petrobras in refusing to ink a new accord.
Strategic Sectors Coordination minister Jorge Glas said that an agreement has been reached with those corporations leaving the country to ensure "an orderly transition so that operations as of this week are transferred to the Ecuadorian state.
The companies leaving have the option of suing Ecuador in an international court for breach of contract, but Pastor said the government will provide "fair" compensation that obviates such a move.
The Brazilian company produces roughly 20,000 barrels of crude per day from Block 18 and the unified Palo Azul oil field in the Ecuadorian Amazon. Petrobras is controlled by the Brazilian government and Brasilia was directly involved in the contract negotiations.
The company's decision will not affect bilateral relations, an adviser to Brazilian President Luiz Inacio Lula da Silva said in statements published Wednesday.
"We discussed the issue in detail and took the decision that we saw fit," the president's adviser for international affairs, Marco Aurelio Garcia, told financial daily Valor.
"They didn't offer us anything better than (what Petrobras had) in the profit-sharing contract ... the (per-barrel) rate was not compensatory," the company's international area director, Jorge Zelada, told Valor.