Rio's favelas war has full support and logistics from the federal government
Friday, November 26th 2010 - 15:04 UTC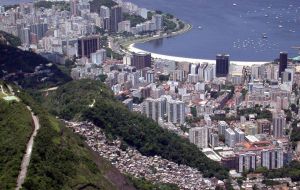 Brazilian president Lula da Silva promised full support from the federal government to Rio de Janeiro authorities involved in a clean-up operation to free the city's shanty towns, favelas, from drug traffickers and organized crime.
The local display of thousands of police special forces with military logistics support in the last five days has caused tens of killings (including innocent by-passers) and hundreds of arrests while criminals have reacted torching cars and public transport in the heart of the city.
"I've been twice on the phone with (Rio) governor Sergio Cabral and I confirmed that the federal government will support him with whatever he needs to ensure that well intended people can live peacefully in this country", said Lula da Silva Friday from Georgetown where he is participating in a regional Unasur summit hosted by Guyana.
Lula da Silva was honoured by the Guyana government with the "Order of Excellence" the highest distinction in the country for a foreign head of state.
"We're going to do everything that is possible and in the framework of the rule of law" underlined the president who advanced that the Rio governor could count with military helicopters, armoured vehicles and federal government special forces.
"It in unconceivable that 99% of the people, hard working and responsible citizens, are prisoners or virtual hostages of the 1% that lives in marginality", said Lula da Silva adding that "the situation has become inhuman".
Rio's special forces Thursday night apparently took control of the Vila Cruzeiro favela, stronghold of one of Brazil's main criminal gangs, Comando Vermelho, which controls most of the narcotics and illegal weapons trade in the country's main states.
Not long ago the gang forced Brazil's powerhouse: the city of Sao Paulo to shut down for three days following on massive coordinated attacks on police stations and torching of vehicles.
The gang was protesting the removal of its leaders from common jails in Sao Paulo, from where they controlled business to out of state high security incarceration.
The federal government is supporting the virtually military action against organized crime in one of Brazil's most renowned cities for its beauty, beaches and music (and crime) ahead of a full international agenda which includes the World Cup in 2014 and the Olympic Games in 2016.
A highly politically sensitive issue because it involves the millions of the city's residents who live in the favelas and where the criminal organizations hide and operate, this time the clean-up operation seems to have the full support of the political system and obviously public opinion.