Argentine Falklands top expert Ambassador Garcia del Solar dies in Buenos Aires
Saturday, November 27th 2010 - 00:23 UTC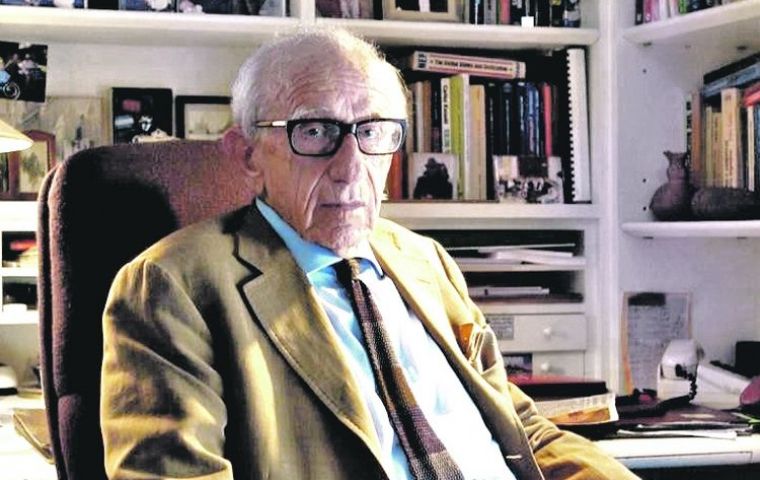 One of Argentina's main experts on Falklands/Malvinas affairs Lucio Garcia del Solar and former ambassador before the United Nation, United States, the former Soviet Union and UNESCO, among other diplomatic posts died Friday morning in Buenos Aires.
The veteran and knowledgeable diplomat was born in Mar del Plata 88 years ago. He received a PhD degree in International Relations at the Paris Institute of Diplomatic Studies in 1958 and since dedicated his life to the dispute with the United Kingdom over the Falkland Islands.
In spite of his youth he was named ambassador in United Nations during four years and was instrumental in the Argentine diplomatic strategy to have the UN General Assembly approve in 1965 the 2065 resolution calling on the UK and Argentina to proceed with negotiations on finding a peaceful solution to the sovereignty question.
The 2065 resolution has become the foundation of all Argentine claims for the resumption of sovereignty talks over the disputed Islands with London.
García del Solar was also ambassador in the United States and the Soviet Union and Unesco. He was named special representative for the normalization of bilateral relations with the Untied Kingdom following the 1982 South Atlantic conflict when Argentina invaded the Falklands and was later expelled by a British Task Force.
"One of the strongest points of Argentina's position is having always claimed the Malvinas Islands since they were taken over by Britain", said the Malvinas expert during an interview in the nineties.
"Malvinas is the foreign policy issue most deeply rooted in the spirit of Argentines. However our Congress does not debate on the issue as does the British parliament. What really happens is that in Argentina overall there is no discussion on foreign policy", claimed Garcia del Solar in one of his last interviews earlier this year.