US State Department obsessed curiosity with Argentina's "First couple"
Tuesday, November 30th 2010 - 06:27 UTC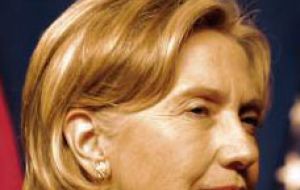 Amongst the 250,000 documents released by the WikiLeaks organization is a cable that shows the intention of the White House of "preparing a written product examining the interpersonal dynamics between the Argentine governing tandem" ("ruling couple" or First couple") Cristina and Nestor Kirchner, according to the published material.
The document states that Washington "analysts" were looking to profile Cristina Fernández de Kirchner by gathering more information about her and her policies. The profile request was from State Department Secretary Hillary Clinton who a few months later visited Buenos Aires where she met the target of her singular curiosity.
The particular document is divided into three sets of questions: mental state and health, and political views. The first section includes questions about stress levels and possible medication intake, such as: "Under what circumstances is she best able to handle stresses?" How does such a stress situation influence her advisors and/or the decision making process? What measures does CFK or her advisors adopt to help her cope with stress? Is she medicated? When does she best control stress? How do they affect her emotions during a decision making process and how does she contain tension when anguished? How is Nestor Kirchner gastro-intestinal problem? Does it continue? Is he medicated? Knowing his character, is there evidence he oscillates between emotional extremes? Which are the most common targets of Nestor Kirchner's bouts of fury?
In the second set of questions curiosity is centred in whether CFK prefers tactic or strategic visions and if her approach is black or white, or a more blended one? Does she share the confrontational political vision of her husband? or does she try to moderate Mr. Kirchner' approach.
Finally the questions refer to Cristina Fernández and her now late husband Néstor Kirchner, and how tasks were divided between them. One question asks "Which issues does she leave to Néstor Kirchner?"
The document (31 December 2010) described as 'secret' says that the State Department Operations and Intelligence Office was looking to "develop a more well-rounded view of Cristina Fernández de Kirchner's personality" since "we already have a more solid knowledge about the style and personality of Nestor Kirchner.
Although both the deceased former president Kirchner was known to suffer from high blood pressure (that finished killing him) and other problems, and Mrs Kirchner has long been diagnosed as a bi-polar case (which needs lithium treatment), it is also a fact and should not come as a surprise that the "First couple" (two presidents) and the frustrated "Clinton couple" (one president and a hopeful) in spite of the distance and different scenarios felt a natural attraction.
No wonder then such specific questions on a particular leader and the Argentine governing "tandem" should come from a former US presidential candidate. Such curiosity is quite a curiosity in itself.
Regarding other issues, Bolivia for example, former Under Secretary for the Western Hemisphere Thomas Shannon (currently ambassador in Brazil) had a close relation with the Kirchners to the extent that (on September 2008) a message states that "CFK is ready to cooperate with the US in Bolivia, but it must not look as a "political operation" against the government given "Evo Morales deep suspicions". Shannon also reveals that the US had assured CFK of Bolivia's territorial integrity and was unsuccessfully trying to convince President Morales that Washington "wasn't against him".
As to the coup in Honduras and ousting of President Jose Manuel Zelaya, the US embassy in Buenos Aires cabled the State Department that President CFK acted against the advice of her Foreign Secretary, who was contrary to her travelling to the area unless there was "something (diplomatically) pre-cooked". This episode is evidence of the "ineptitude of the Kirchners in foreign policy".
The document suggests CFK decided to fly anyway in an attempt to have her husband's defeat in the mid term elections relegated by other more impacting headlines.
Precisely following those mid term elections and the defeat of Mr. Kirchner, the US embassy calls for the State Department to act with caution and forecasts Argentina "will not become more Bolivarian (Venezuelan influence)". Among the reasons, according to Brazilian sources "Argentina has become as strategic to Brazil as Mexico to the US". Additionally CFK is clearly looking for an opportunity to associate with President Obama. "The intensity of that wish opens opportunities for us".
The US embassy also downplayed reports in Washington about the "precarious psyche" of the First Couple as highly "speculative and anecdotal". The couple has not changed much in the last few years, 'they have always been acid, extremely thin-skinned and intolerant of perceived criticism, impermeable to advice and paranoiac about power. It has been so during these last six years in office and they continue in Casa Rosada".
In another incident regarding relations with the US, CFK took advantage of a visiting delegation of US lawmakers, mainly Democrats, to express disappointment with the Obama administration. During the two hours meeting CFK recalled that in spite of political differences, her husband former President Nestor Kirchner was received at the White House by George Bush a month after his election, while she had been unable to hold a meeting with Obama. "Other Latinamerican leaders have been to the White House but Argentina in spite of her strong stand against Iran and in combating terrorism has yet to be invited".
CFK mentioned the case of Brazil's Lula da Silva who in spite of his close approach with Teheran and having voted against at the Atomic Energy Agency had already visited the White House. "It's difficult to understand why this is so". CFK also complains about the attitude of the new Western Hemisphere Under Secretary Arturo Valenzuela.
Taking advantage of Uruguayan president Jose Mujica taking office ceremony in Montevideo on March first 2010 the "First Couple" and Secretary of State Hillary Clinton hold a first brief meeting. Encouraged, Mrs Clinton includes a brief stop in Buenos Aires in her regional tour, before flying to quake stricken Chile. At Casa Rosada CFK again brings up the Obama meeting issue and requests support for Argentina's Falklands/Malvinas' claim.
The meeting was described by the US embassy as "warm and wide ranging" and Hillary Clinton congratulated Argentina for the struggle in support of human rights.
Finally on March 12 CFK is in Washington for the Nuclear Security Summit, where she is received by President Obama. The US leader publicly praises Argentina for her position against Iran and standing support in combating terrorism, plus recalling that the country is an active member of the G.20 group.