UK company secures contract to repair and maintain Chilean navy frigates
Wednesday, December 1st 2010 - 07:07 UTC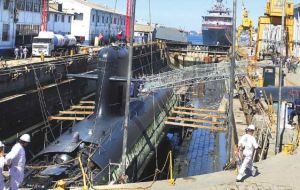 UK BAE Systems has secured a two year extended agreement with Chilean ship build and repair organisation ASMAR to provide support to the country's navy Type 22 and Type 23 frigates in a move that is set to enhance Chile's naval capability.
The agreement comes on the back of an initial three year contract signed in 2007 and guarantees a core level of repair and maintenance support to the frigates, with the scope to provide additional platform and combat systems equipment upgrade work to the Armada de Chile as required.
Demonstrating the strength of partnership between the companies, the agreement also seeks to transfer technology and skills, enabling ASMAR to progressively increase the proportion of work it conducts independently in Chile.
Speaking at Exponaval, South America's leading maritime exhibition, Dean McCumiskey, BAE Systems' Managing Director for Europe and the Americas, said: "Today's announcement is an endorsement of the support we have delivered to ASMAR and the Chilean Navy to date and we look forward to strengthening this relationship over the next two years.
"We will work side by side with ASMAR to enhance its capability to deliver complex warship support and assist in the re-equipment of its workshops at Talcahuano dockyard. We also have plans already underway to provide training for Chilean personnel in the UK. This will enable Asmar to develop further skills required to undertake complex supply chain management, dockyard management and fleet maintenance programmes."
The contract with ASMAR reflects the continued growth in BAE Systems' support and services operations. It is the latest agreement in the defence firm's long track record of working in partnership with industry and navies around the world to enhance indigenous maritime capability. A key feature in the Company's success in this area is its recognition of the need to develop tailored solutions that best meet the needs of each partner.