Argentina takes Falklands' sovereignty claims to the Maritime Organization
Thursday, December 2nd 2010 - 04:00 UTC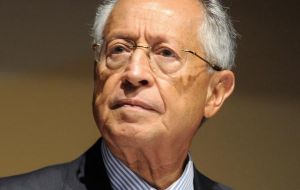 Argentina renewed this week its sovereignty claims over the Falklands/Malvinas Islands and accused the United Kingdom of deliberately not complying with the International Maritime Organization regulations by exposing the security of shipping in the South Atlantic.
During this week's meeting in London of the IMO Maritime Security Committee Argentine delegate Osvaldo Marsico ratified that the British military exercises with missiles in the Falklands/Malvinas not only is "an unacceptable provocation but also were done in open violation of IMO regulations", UN resolutions and other international organizations.
According to a release from the Argentine Foreign Affairs ministry the IMO plenary session was attended by the organization's Secretary General Efthimios Mitroupoulos and Neil Ferrer president of the Maritime Security Committee.
Argentina's position was supported by presentations from Brazil, Ecuador, Bolivia, Panama, Chile, México, Venezuela, Cuba, Colombia, Peru, Spain and South Africa.
The Brazilian delegate was particularly articulate in supporting Argentine sovereignty claims over the Islands recalling the recent Unasur declaration rejecting UK's missile practice shooting from land to sea.
Apparently no country member in the Committee came out in support of the UK.
The IMO Maritime Security Committee took note of Argentina's complaints and decided to keep a file with the support statements and called on all governments to abide all security and safety regulations referred to operations that may endanger shipping.
Argentine delegate Marsico said that it was necessary to expose before the committee serious incidents that reveal the repeated and deliberate violation by the UK of IMO regulation, endangering the security of shipping in the South Atlantic.
"On Friday October 8 for the first time the UK informed the Argentine Naval Hydrographical Service, as coordinator of NAVAREA VI, that military exercises including the firing of missiles from Malvinas Islands during October 11 and 23".