Uruguay headed for a record year in exports; Brazil main trade partner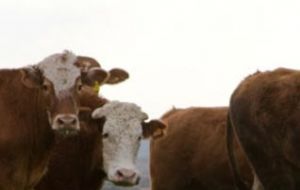 Uruguay's exports jumped 23.3% during the first eleven months of 2010, anticipating a new value record for the year. Exports totalled 6.1 billion US dollars between January-November compared to 4.95 billion in the same period a year earlier and are higher than the twelve month previous record of 6.1 billion in 2008, according to Uruguay's Exporters' Union.
Brazil remains as Uruguay's main trade partner having absorbed 21.25% of exports followed by the Free Zone of Nueva Palmira, 10.3% and Argentina 7.55%. However Portugal and Turkey figure as the two countries which experienced the greatest increase in the eleven month period, 411% and 185% respectively.
Geographically, Mercosur, Chile and Venezuela absorbed 37% of all Uruguayan exports; Nafta (US, Canada and Mexico) 5%; the European Union 15%; free trade zones 14% and the rest of the world, 29%.
Uruguay's main export item is beef, 17.97% (up 16.99% over the same period a year ago). Soy is the second item with 11.61% (up 53.58%) followed by grains, dairy produce and wood.