Falklands' friends: HMS Scott to Antarctica; HMS Invincible to the scrap
Monday, December 13th 2010 - 01:19 UTC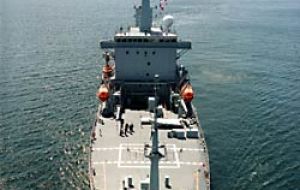 The future of the Royal Navy's ice patrol vessel HMS Endurance may remain in doubt well over a year after it nearly sank in the Straits of Magellan and returned to Portsmouth on the lift ship MV Target, but there is no doubting the UK's ongoing commitment to the Antarctic Treaty.
One hundred years after the death of the explorer after whom she is named, the Navy's deep water survey vessel HMS Scott left Plymouth early on the morning of November 25, bound for the Antarctic.
Earlier this year Devonport based HMS Scott surveyed 3,000 miles of uncharted ocean and provided information for the safety of navigation and entirely new seabed views of interest to scientists, including newly-discovered undersea volcanoes.
The ship's current mission will again be in support of the Foreign and Commonwealth Office and the British Antarctic Survey.
HMS Scott will provide data for the United Kingdom's Hydrographic Office using her state-of-the-art multi-beam sonar system to collect information in the data-sparse waters of the Antarctic.
Despite the fact that HMS Scott is not officially an icebreaker, she can sail through ice up to 80cm thick. Commanding Officer Commander Gary Hesling said: "The fact that HMS Scott can undertake useful and valuable tasking, despite not being an icebreaker, shows the utility and flexibility of the Royal Navy."
While one relatively new ship to the Falklands makes its way here under full steam, another old friend is about to suffer a very different fate. The aircraft carrier HMS Invincible, which was Britain's flagship vessel in the Falklands war, has been put up for sale as scrap metal on an auction website similar to eBay.
Decommissioned in 2005 after 32 years of service, and with her four Rolls Royce gas turbine engines removed, the government is hoping that the 10,000 tons of mild steel in her hull will be worth more than £2 million.
Should any reader with deep pockets and a welder be interested, the aircraft carrier has been put on www.edisposals.com where it is currently listed as "in stock".
Latest reports suggest that no bids have been received, but Leavesley International – who scrapped HMS Intrepid in 2008 - have indicated that they are interested.
HMS Invincible was due to be sold to Australia for £175 million in 1982, but the sale was hastily stopped when the war in the Falklands broke out.
Built by Vickers in Barrow-in- Furness, HMS Invincible was laid down in 1973 and entered active service in 1980. She was mothballed in 2005 after a refit which was supposed to extend her life by ten years. (Penguin News).-