Fed admits economic recovery too soft to bring down unemployment level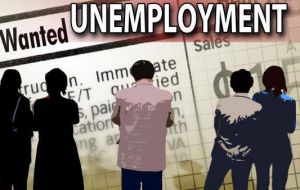 The US economic recovery is still too soft to bring down the country's high level of unemployment, the Federal Reserve warned on Tuesday. The central bank made the comment as it reaffirmed its commitment to continue purchasing 600 billion in bonds to stimulate the economy.
The Federal Reserve also kept US interest rates on hold at between 0% and 0.25%, as had been widely expected.
Unemployment in the US reached 9.8% in November, its highest level since April. Just 39,000 jobs were created last month, down from 172,000 in October, meaning 15.1 million people were without work. US unemployment rate has now been above 9% for 19 months, the longest stretch on record.
The most recent data showed that the US economy grew by an annualised rate of 2.5% between July and September. However this is not sufficient growth to allow job creation to keep up with the growing US working-age population.
In its report the Fed says that "the unemployment rate is elevated" and although it anticipates a gradual return to higher levels of resource utilization in a context of price stability, "progress toward its objectives has been disappointingly slow".
Therefore to promote a stronger pace of economic recovery the Federal Open Market Committee decided to continue expanding its holdings of securities as announced in November.
The FOMC "will maintain its existing policy of reinvesting principal payments from its securities holdings. In addition, the FOMC intends to purchase $600 billion of longer-term Treasury securities by the end of the second quarter of 2011, a pace of about $75 billion per month".
Voting for the FOMC monetary policy action were: Ben S. Bernanke, Chairman; William C. Dudley, Vice Chairman; James Bullard; Elizabeth A. Duke; Sandra Pianalto; Sarah Bloom Raskin; Eric S. Rosengren; Daniel K. Tarullo; Kevin M. Warsh; and Janet L. Yellen.
Voting against the policy was Thomas M. Hoenig who argued that in light of the improving economy, he was concerned that "a continued high level of monetary accommodation would increase the risks of future economic and financial imbalances and, over time, would cause an increase in long-term inflation expectations that could destabilize the economy".