Argentina's top businessman warns about inflation and Chinese investments
Thursday, December 16th 2010 - 18:28 UTC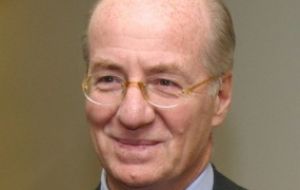 Argentina's most influential businessman warned about the "inflationary escalade" which, if not contained can lead to an unfavourable climate for investments. Paolo Rocca, Techint group CEO made the statements during an entrepreneurs' forum where he called for "business responsibility", "clear rules of the game", "transparency" and questioned the landing of Chinese oil corporations in Argentina.
Addressing the cream of Argentina's business elite and powerful union leaders, Rocca said that "strong favourable winds" and "important opportunities" are opening for Argentina given its efficient farming sector, manufacturing basis, able labour and overall conditions.
"Sovereign debt contained, fiscal equilibrium and great natural and human resources are there, let's take advantage of them", said Rocca who added that contrary to the 2001 crisis challenge which was to recover working capital and increase the use of assets idle capacity, "now we must promote productive investment, increase production capacity and integration among the different sectors".
Regarding inflation Rocca cautioned that "stimulating the economy without ensuring a favourable climate for investments only props the inflationary escalade to the detriment of social players. Companies earnings are not sustainable in an inflationary context."
Rocca said that Argentina's investment currently stands at 21.5% of GDP, when it should be in the range of 30% to 40% so that all sectors can grow. He again questioned the "commodities" oriented economy which he defined as a "pact with the devil" and argued that "Argentina has become a net importer of industrial manufactured goods".
Latinamerica has become the stage for Chinese corporations investing in the primary sector, more than elsewhere, not only because of the potential but also because China faces no resistance. "When we look, for example to Chinese purchases in the Argentine energy sector, with no opposition, we can see what is really happening".
"China is not a democracy; it's not a market economy, it's an authoritarian system, highly centralized with a very strong central power and Cnooc/Sinopec is a corporation that belongs to the Chinese state", said Rocca. And this very state prevents Techint from going to China to purchase a Chinese company. "It's not allowed: Chinese rules of the game impede us from acquiring assets in China, but nothing impedes Sinopec from coming to Argentina and buying assets as a government company"
Rocca said that the same in happening in other Latinamerican countries and is something we must mediate about and "an issue which must be addressed by all sectors, manufacturing and financial, and obviously the political class must also consider it".
The CEO from Techint, who among other things in the world leader in casings for the oil industry said that other countries "such as the US have not allowed similar operations" and mentioned specifically the case with Marathon oil not so long ago.
"Big countries continue with obstacles for foreign investors not only in the energy sector but also in commodities production, let's take this into account, please" concluded Rocca.