IMF anticipates 'soft-landing' of Uruguay's economy in next two years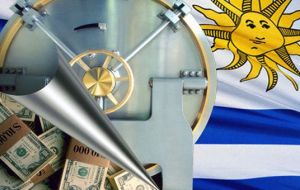 The International Monetary Fund said economic growth in Uruguay will probably slow over the next two years, requiring policy makers to prepare for a "soft landing."
Uruguay is likely to achieve growth in real GDP between 8% and 8.5% in 2010, followed by 5% growth in 2011 and 4% in subsequent years, the IMF said in a statement.
"The most immediate policy challenge is to ensure conditions for this soft landing of the economy," the IMF said. "There is a risk of a worse global or regional economic outlook. The medium term task is to ensure that Uruguay enjoys rapid, sustained growth with less volatility than in the past".
Uruguay needs to adopt fiscal and monetary policies to "temper" domestic demand, reduce inflation, lower debt and steer the economy away from a "boom/bust" path, the IMF said. Currently unemployment has reached "record lows" and inflationary pressures are rising, warned the IMF.
The Central bank reported Thursday that Uruguay's GDP rose 7.9% in the third quarter from the same period a year earlier. GDP expanded 1% from the previous quarter and 8.8% in the first nine months of the year from the same period in 2009, the bank said in a report on its website.
Commerce, restaurants, transportation, agriculture and communications were among the activities that posted quarter-on-quarter gains, while declines were noted in manufacturing and utility output.
Earlier this month, Moody's Investors Service lifted Uruguay's sovereign credit rating by two notches to Ba1, just below investment grade, thanks to improvements in the nation's debt and fiscal indicators. The ratings outlook is stable.
"Uruguay will have to demonstrate significant, additional improvement before any further upgrades will be considered, which we do not think is likely to occur in the near term," Moody's senior credit officer Mauro Leos said in a report.
Uruguay has been expanding at high rates on the back of strong domestic consumption and exports, according to the central bank.