New guide documents marine life amazing diversity in Chilean Patagonia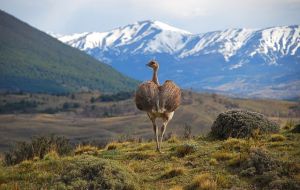 After more than 10 years of research, Chile's San Ignacio de Huinay Foundation has published a guide chronicling the amazing diversity of marine life in Chile's Patagonia, with photographs of 473 marine life species
The Foundation and relied on research conducted by 26 different institutions from 14 countries. The research led to the discovery of 143 new life species, everything from new forms of algae to new fish species.
The research was led by foundation scientists Vreni Hausermann and Gunter Forsterra.
"Although this study focused on the most easily accessible and abundant of the region's life species, the findings are still remarkably impressive" said Victor Ariel Gallardo, a University of Concepcion oceanographer who participated in the study.
"We found that a lot of species threatened with extinction were more extensively distributed than had previously been known... "Ten percent of the new species found by the study had never been registered before".
José Luis Dominguez, head of the Huinay Foundation, said the study covered just a very small portion of Chile's Patagonia and that there was much more work to be done.
By Steve Anderson- Santiago Times