Argentine Government questions present relevance of 1999 Falklands Agreement with Britain
Tuesday, January 4th 2011 - 14:15 UTC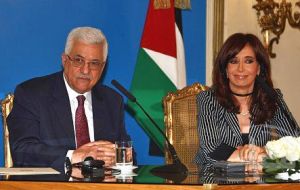 The Argentine Foreign Ministry stated yesterday that the "provisional understandings" signed by London and Buenos Aires were in complete disuse and that the "unilateral actions of the United Kingdom" with regard to oil exploration and military exercises on the Islands constituted an "unsolveable obstacle" to the continuation and development of the "bilateral cooperation"
January 3rd marks the anniversary of British re-occupation of the Falkland Islands in 1833 and every year on this date successive Argentine governments have restated their sovereignty claim over the Islands with greater or lesser virulence.
The communiqué does not mention any dates for the bilateral agreements, but both countries signed them in the 90s after the resumption of diplomatic relations. And so the text issued yesterday by the Foreign Ministry gains relevancy because it materialises the successive breakdowns over recent years leading to the present paralysis in relations with Great Britain due to the increasing importance placed on the sovereignty issue by the Argentine Government.
A sign of this is that the Argentine embassy in London has been without a head since August 2008 when José Nun's candidature was withdrawn by Argentina as a protest.
Under the governments of Tony Blair and Carlos Menem, fishing agreements were signed - still in existence, but obsolete because Argentina no longer participates in the meetings of the South Atlantic Fisheries Commission – and a petroleum agreement. This was revoked by the Kirchner administration, which also imposed controls on shipping. With regard to the politics of flights, a national ban on charter flights to the Islands is still in place. In yesterday's communiqué the Foreign Ministry complained about the "unwillingness of the United Kingdom to tackle the sovereignty question" as Argentina sees it and lists declarations of support for its claim from various regional forums, multilateral groups and individual countries.
Argentina recently announced its recognition of the Palestinian state, joining several other Latin American countries including Brazil, Bolivia and Ecuador.
On Sunday, the Argentine Foreign Affairs Minister thanked President Mahmoud Abbas for Palestine's support in his country's dispute over the Malvinas Islands, which he said had similarities with Palestine's position.
Both countries were under unfair and anachronistic occupation by foreign powers who were exploiting the resources of both territories, the Ramallah-based representative said, and both cases revealed double standards in the implementation of UN resolutions.
The Argentine Foreign Ministry stated also that the British attitude was also contrary to Resolution 31/49 of the United Nations General Assembly, which called upon both parties to abstain from adopting decisions which would bring about unilateral changes in the situation while the Islands were involved in the process recommended by the relevant resolutions.
As in other years, the communiqué on this the 178th anniversary of the establishment of British rule in the Falkland Islands concluded, "Argentina considers incomprehensible the British refusal to tackle the basic problem in order to find a peaceful and definitive solution to the sovereignty dispute, according to the mandate of the International community."