Coca-Based Drink Launched in Bolivia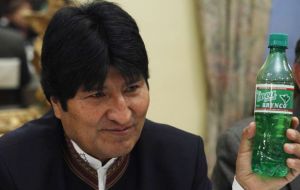 Coca Brynco was launched in Bolivia earlier this week. It is the first mass produced soft drink of its kind and the project is supported by the government of President Evo Morales.
The drink was officially presented at the Rural Development Ministry with several ministers in attendance, a few days after Morales displayed it to foreign media during a press conference in which he defended coca leaf.
Johnny Vargas, the production and quality control manager for bottling firm Tipo, said that about half of the 25,000 bottles of the drink that had been produced had been distributed for the launching of the beverage nationwide.
He said that for four years he had worked on improving the refreshment, which has been displayed at national fairs and has fulfilled all legal and industrial requirements to market it.
Coca Brynco is an initiative pushed by businessmen in El Alto, a grimy industrial city near the capital.
Bolivia, like neighbouring Peru, permits limited cultivation of coca for legal use in cooking, folk medicine and Andean religious rites. Unadulterated coca is a mild stimulant that counteracts the effects of altitude sickness and suppresses hunger pangs.
Morales entered Bolivian public life as the leader of a coca growers union and is on a crusade to persuade the international community to stop stigmatizing the leaf.
As president, he has sharply boosted cocaine seizures while promoting new legal applications for coca leaf.
In addition to Coca Brynco, there is also an energy drink on the Bolivian market, as well as toothpaste, teas, sweets, pastries and other products made with using coca as an ingredient.
The government, with the support of the European Union, is conducting a study to determine what quantity of coca can be utilized in the legal market, compared to the coca production that is diverted by drug traffickers to make cocaine.
Foreign Minister David Choquehuanca on Tuesday in Spain began a tour through five European countries to ask for support for the effort before the United Nations to decriminalize the Andean custom of chewing coca leaf.
Morales said in recent days that Bolivia is not asking the United Nations to remove coca from the list of narcotics but rather simply to respect the chewing of the leaf itself.