Mutiny on board Gorch Fock: Germany Begins Investigation
Friday, January 21st 2011 - 18:51 UTC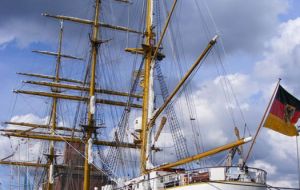 The German Government has ordered an investigation into a reported muting on their training ship the Gorch Fock, which is said to have taken place last year. The Gorch Fock tall ship was ordered to dock in the Argentine city of Ushuaia early on Friday to await experts, after reports of a revolt in November.
Naval cadets were said to have refused to climb a 40-metre mast after a student fell off and died.
The incident has sparked criticism of Germany's Defence Minister Karl-Theodor zu Guttenberg.
Mr Guttenberg has promised to "investigate the accusations in a rigorous manner", and said that there would be consequences if the charges were "accurate".
He has also been under pressure after it was revealed that a German soldier who died in Afghanistan had been killed accidentally by a fellow soldier, and had not shot himself by mistake as had initially been reported.
According to a leaked parliamentary report, several cadets on the Gorch Fock were reluctant to climb the mast in November following the death of a 25-year-old student - known only as Sarah S - during a stop-over in Salvador de Bahia in Brazil.
Hellmut Koenigshaus, parliament's liaison to the military, wrote that the cadets "did not want to go aloft after the painful loss of their comrade and others did not want to continue on the Gorch Fock", Germany's Bild reported.
The ship's commanding officer, Captain Norbert Schatz, reportedly threatened to return the trainees to Germany and declare them unfit for service, according to testimony from several of them cited in the report.
Four cadets were accused of "inciting rebellion", AFP news agency reported.
After the incident, the group of all 70 cadets were flown back to Germany and the Ministry of Defence decided their training on Gorch Fock was finished.
The Gorch Fock was built in 1958 and replaced an earlier ship of the same name. It is commonly used for training purposes.
Investigators are due to arrive in Argentina in the next few days.