Tenders for Three Winds Farms in Uruguay Awarded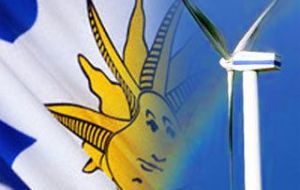 A Spanish firm and two Argentine ones have been awarded tenders to build wind farms. Spanish Teyma and the Argentine Impsa and Fingano will invest around U$ 300 million in the project.
New wind farms are to be constructed as part of Uruguay's recently closed tender for 150MW of wind power will be operational within the next three years, a source from the country's state power firm UTE said.
Head of UTE Gonzalo Casaravilla, speaking on the radio said "We have awarded the tender to the first three companies, because the advisory committee had no objections to their offers.
The wind farms will be in Tacuarembo (Teyma), Lavalleja (Impsa) and Maldonado (Fingano). The companies involved have assured a fixed price for each megawatt and hour generated for the next twenty years. Each wind farm will cost around U$ 100 million and will be operational within three years.
According to bid information, Argentine firm Venti (which belongs to the Impsa Group) came in first place, with a price of U$81,15 per megawatt, becoming the company to win the highest percentage of the tender with 42.5%.
Sources linked to the firm said "the firm's aim is to construct aero-generating towers of concrete, which will require a large number of workers. To the Impsa Group, it was strategically important to invest in Uruguay," they added.
Impsa currently has wind farms in Argentina and Brazil and projects being developed in Peru, Chile and Venezuela and has contracts signed for the sale of wind farm energy for 800 megawatts. Sources said the firm will use both its own capital and acquire some financing.
Over 22 bids for projects with capacity of 30-50MW were received from 15 different companies participating in the tender, which closed in July.
"The other bidders have 10 days to appeal," the source commented.
The projects awarded consist of three different wind farms, each with capacity of 50MW. UTE has since revealed plans for a second tender for an additional 150MW to be held in April.
The tenders form part of the government's push to add up to 600MW of wind power capacity to the national grid by 2015.