Brazil to provide free medicines for high blood pressure and diabetes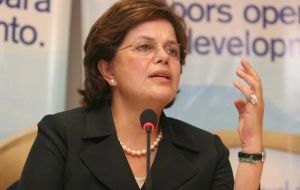 Brazil is to provide free medicines for everyone suffering from high blood pressure or diabetes. The drugs will be distributed as of next month through a nationwide network of budget pharmacies, where many medicines are already heavily subsidised.
President Dilma Rousseff said the measure was part of her campaign to end extreme poverty in Brazil. About 33 million Brazilians have high blood pressure, and more than seven million have diabetes.
Health minister Alexandre Padilha made the official announcement Thursday revealing that high blood pressure and diabetes causes 34% of deaths in Brazil in 2009 and that the poorest sectors of Brazilian society spend an estimated 12% of their incomes on medicines.
The free medicines will be available to all Brazilians who have a doctor's prescription, but the authorities say they expect the offer to be taken up mainly by poorer people who use the public health system.
They will be distributed through 15,000 chemist shops that belong to the "Popular Pharmacies" network, where many drugs are already sold at a 90% discount.
Since 1996 Brazil has provided free anti-retroviral drugs to patients with HIV/Aids, an approach that has been widely praised. Other ills covered by the system include asthma, rhinitis, osteoporosis, glaucoma and Parkinson.
President Rousseff, who took office on 1 January, has promised to increase investment in Brazil's public health system as a way of combating "extreme poverty".
According to Minister Padilha the subsidized medicines program demands an estimated 300 million US dollars annually.