Uruguay has the highest per capita milk consumption: 230 liters annually
Thursday, February 10th 2011 - 06:39 UTC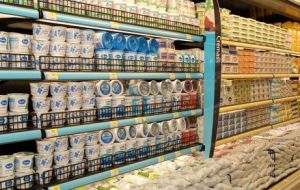 Uruguay has the highest per capita consumption of milk in Latin America averaging between 225 and 230 liters. This compares favorably with Argentina's 220 liters, Brazil's 110 and Chile's 100.
Uruguay has a significant milk industry and dairy products in the domestic market are relatively cheap (*), explained Carlos Torterolo president of Uruguay's national association of milk farmers.
"Although most of the country's production is exported, the domestic market remains strong and this is reflected because we produce a rich, reliable milk which is also acknowledged internationally", added Torterolo.
However Torterolo pointed out that Uruguayan dairy farmers are going through rough times because of increasing costs triggered by short term factors, the weather and the lack of sufficient rainfall, and long term factors: "we have to compete for land with more aggressive and profitable industries such as soybeans and forestry and lumber".
"The new agro-business in Uruguay, oil seeds, cereals and forestry have taken over land dedicated to dairy farming and we have difficulties renting land", said Torterolo although admitting that last austral spring "we had a record milk production".
Torterolo said that most of Uruguay's dairy exports is in the form of powder milk (41%) with the price of the ton last December at 3.670 US dollars.
Regarding cheese Torterolo said most of the production is exported, mainly to Brazil, which on occasions has an impact on domestic market prices. However international prices have remained relatively stable lately.
"In the last few months the average selling price for a ton of Uruguayan cheese was in the range of 4.900 US dollars, which is higher that the Australian average of 4.175 US dollars pointed out Wilson Cabrera from Conaprole, Uruguay's main dairy cooperative.
"Foreign sales are strong, prices have gone up 2% and the long term prospect is for demand to keep increasing", said Cabrera who revealed that cheese is the second export item in value of Uruguay's dairy exports.
(*) A litre of milk sells at 80 US cents; a litre Coke almost 2 US dollars and a litre of bottled water, 1.50 US dollars.