Uruguay manufacturing recovered mildly in 2010: "industry is stagnant"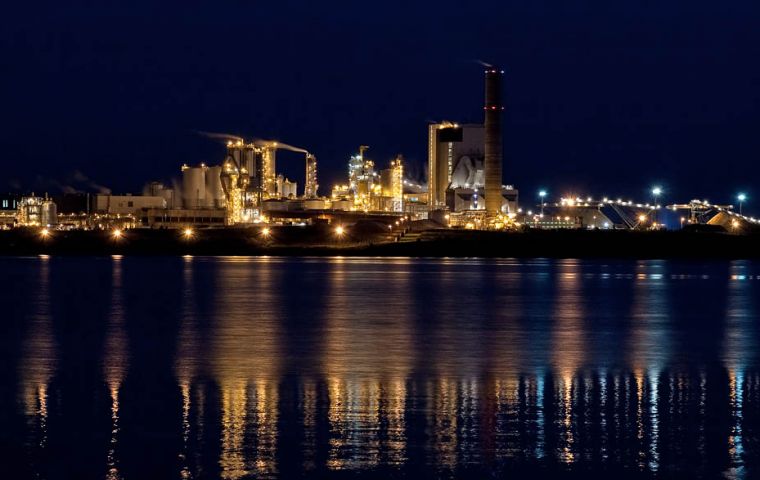 Uruguay's manufacturing industry expanded 4.5% in 2010, but if the pulp industry hub is excluded the percentage drops to 3.5%, according to the latest release from the National Statistics Institute, INE.
This is the slowest recovery rate following a recession since 2003. In 2009 manufacturing activity dropped 4%. The percentages however are analyzed from conflicting points of view by members of the industry and economists.
"The message is quite clear, industry is stagnant. Not so long ago manufacturing was 20% of Uruguay's GDP, now we are down to 14%", said Gabriel Murara, deputy head of the Chamber of Industries, CIU.
Murara said that the Uruguayan economy in the last few years expanded boosted by the development of the services sector, "but this did not happen with manufacturing", furthermore in 2011 "the melting of the US dollar is not helping, public utility rates are up and salaries keep increasing in pesos, but not necessarily productivity and competitiveness"
"Although the price of some international goods in foreign markets increased considerable and helped to absorb the depreciation of the US dollar, this was not extensive to the whole sector or exporters", added Murara.
The same has happened with companies supplying the domestic market that must face increased competition from "cheap" imports in US dollars.
However economist Marcelo Sibile from KPMG said that growth in manufacturing was "acceptable" although not at levels previous to the 2009 crisis.
Sibile said low growth in food and beverages was influenced by a lesser activity of abattoirs given the insufficient supply of prepared cattle. In the textile and garment sector imported goods had an impact and in the metal industry, foreign competition and a slower level of government procurement.
To support his statement Sibile says manufacturing increased 4.8% last December compared to the same month the previous year.
Pablo Moya, analyst from Oikos consultant said manufacturing industry expansion is "parallel to the overall economy which we estimate will grow 8.5% in 2011", which anyhow will be below the 2010 rate.
Sibile finally said that "if the meat industry recovers, if major public works that need industrial supplies are launched, and productivity (as has happened in some sub-sectors improves), overall industry should have a good 2011"
However of the 19 sub-sectors that make up the manufacturing index, 14 expanded in 2010 and only four remained stagnant or below 2009. Among the good performers chemical production (11.3%), pulp and paper (10.5%), while at the other end textiles and oil refining activities contracted 12.8% and 1.8%. The metal industry also registered 6% negative growth
Sibile said productivity advanced since while manufacturing expanded 4.5% in 2010 and the number of hours worked 1.5%, employment in industry grew by 0.6%.
The performance of other sub-sectors with a low incidence in the overall index includes auto-assembly, 41% and wood and pulp products, 38%.