Argentina/Uruguay launch campaign to jointly organize 2030 World Cup
Monday, February 28th 2011 - 06:36 UTC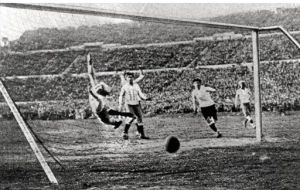 Uruguay and Argentina will take advantage of the coming 2011 America Cup (Copa América) to promote their joint candidacy to organize soccer's major event: the 2030 World Cup on occasion of the centenary of the first time the tournament was played.
Precisely in July 1930 the first World Cup was organized and played in Montevideo with Uruguay beating Argentina in the final 4-2, thus also becoming the first country to raise the Cup.
Argentine Sports minister Claudio Morresi visited Montevideo over the weekend to begin coordination activities with his Uruguayan counterparts from the Ministry of Tourism and Sports headed by Hector Lescano.
"In the round of meetings we have planned, we will draft a road map with the main strategic lines for the joint promotion of 2030, during the Americas Cup, and after that, and we hope presidents Cristina Fernandez and Jose Mujica will be participating", said Minister Lescano.
In 2009 Argentina and Uruguay created a bi-national committee to begin working on the joint candidacy. In spite of the distance in time, "we are still 19 years away, we really only have eight years left" said Morresi.
"We know the 2018 Cup is to played in Russia and the following in 2022 in Dubai, and it was announced in 2010; so at the latest in 2019, a decision will be made", added the Argentine official.
"I think we have a very strong case: the first Cup was played in Montevideo, Uruguay and Argentina disputed the final and both countries have a very rich and distinguished football history: Uruguay two Cups, 1930 and 1950, and Argentina, 1978 and 1986", underlined Lescano.
Morresi said that in all major sports events the two countries must be together and revealed that the two countries' leaders are committed to a formal presentation before their Ibero-American peers in support of the initiative.
"Organizing a World Cup gives a chance to promote the countries, to promote tourism, culture, to boost infrastructure, transport, communications and nowadays it would be impossible for Uruguay to do it on its own, but jointly with Argentina, it's different and a great chance", said Lescano.
"A wonderful occasion to celebrate a hundred years of world competition of one of the most popular sports on Earth", said Morresi.
The Copa America which this year is organized by Argentina was first played in 1916 and Argentina and Uruguay rank first and second in the number of times they won the tournament.