Uruguay has the best business climate in Latam, says FGV and IFO
Monday, February 28th 2011 - 09:05 UTC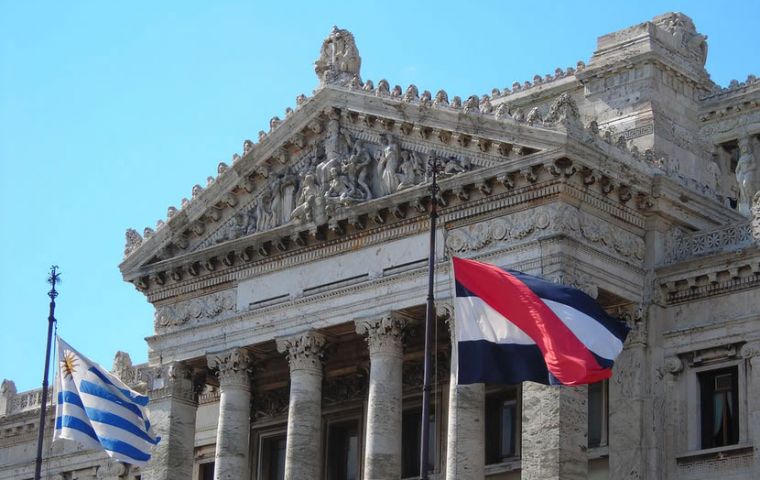 Uruguay offers the best business climate out of eleven countries from Latin America according to the latest ratings released by the Brazilian Getulio Vargas Foundation, FGV and IFO from the University of Munich in Germany.
Of the eleven countries, besides Uruguay five recorded advances in the business climate index in the quarter extending from October to January: Chile, Ecuador, Mexico, Paraguay and Peru. In four of them, Uruguay, Chile, Paraguay and Peru, there has been an improvement in the current situation and in the expectations index.
More specifically the report indicates that a "descent in the rate of inflation is expected in Uruguay".
With a score of 7.5, Uruguay heads followed by Peru (that had the first place), Chile, Brazil, Paraguay, Colombia, Argentina, Mexico and Bolivia. Ecuador and Venezuela figure at the end of the list.
Actually Uruguay and Peru have the same score, 7.5. However based on a poll among 143 experts in 18 countries, Uruguay climbed from 7.3 last October, while Peru remained stable, compared to the previous measure, at 7.5 points.
Chile figures with 7.3 points (which is the most stable overall); Brazil has 7 points; Paraguay, 6.8; Colombia, 6.6; Argentina, 5.6; Mexico, 5.4; Bolivia, 4.9; Ecuador, 4.8 and Venezuela, 1.8.
In January 2011, the business climate index for Latin America remained at 5.8, compared to the same score from last October. More precisely the Current Situation Index was up 0.1 from 5.8 to 5.9 while the Expectations Index dropped in the same proportion, from 5.8 to 5.7.
Expectations in Argentina and Brazil remained virtually unchanged from the last poll. In both countries there's a drop of 0.2 points but Brazil is still ahead of Argentina.