"Brazil has no money to buy jet fighters" in 2011 confirms top official
Tuesday, March 1st 2011 - 06:55 UTC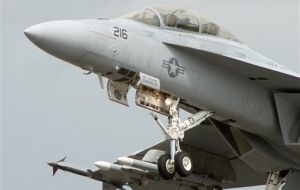 The Brazilian government has "no money to buy jet fighters" in 2011 confirmed Finance minister Guido Mantega in reference to the tender for the purchase of at least 36 modern aircraft and for which France, United States and Sweden are competing.
"We have no available funds and there's no fiscal space", therefore it is most "improbable" that the operation would be concluded this year said Mantega during a press conference Monday when he explained the reasons behind the recently announced cuts to the 2011 federal budget.
The pruning was anticipated in mid February and totals 50 billion Real equivalent to 30 billion US dollars on an annual budget of 1.24 trillion US dollars.
The original defence budget for this year was 15 billion Real (8.8 billion USD) but following the latest cuts it will be reduced to 11 billion Real (6.5 billion USD), which will force a review of all pending military hardware purchase including the Air Force fighters.
The tender is for 36 fighter-bombers and competitors are France's Dassalut Rafale, the US Boeing Super Hornet F/A 18 and Sweden's Saab Gripen.
"We are forecasting the Brazilian economy will expand 5% this year which is reasonable and appropriate to avoid over heating problems", said Mantega.
He added that the 7.5% of last year represented an "excessive acceleration of the economy", which is to be controlled with the budget cuts announced for this year.
Mantega said that a reduced budget will help control the rate of growth, which at 5% is "manageable and sustainable".
However the minister insisted that budget cuts do not mean a lesser intervention of the state in the economy or a change in the policies applied in the last eight years bur rather "adapting to the current moment the country is going through".
Mantega recalled that Brazil implemented a significant stimulus plan for the economy in 2008 with the purpose of diluting the impact of the global financial crisis.
"But those effects in Brazil have been controlled and therefore the additional government boost is no longer needed, and will be diminished through the budget trimming".