EU chief negotiator admits 'complications' but confident of a trade accord with Mercosur
Tuesday, March 15th 2011 - 23:38 UTC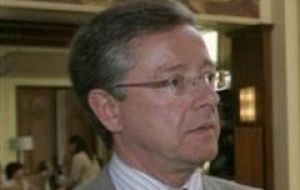 A strongly worded resolution from Members of the European Parliament earlier this month outlining their concerns over agriculture does not represent a setback for EU-Mercosur trade talks, the EU chief negotiator said in Brussels.
The comments come as a fresh round of negotiations between the European Commission and Mercosur (Argentina, Brazil, Paraguay and Uruguay) is underway in the Belgian capital this week.
"We are aware of the concerns, but we have also received many letters of support" EC Deputy Director Joao Aguiar Machado said on Tuesday.
"I don't think the resolution is a setback. I'm not minimising it, but it certainly doesn't represent a reduction in the Commission's commitment to a deal" he added.
Aguiar Machado said that even admitting "some complications" and "sensitivities", the idea is that "this time we can reach a trade agreement, following the first frustrated attempt between 1999 and 2004"
The EC Deputy Director denied "pressures" from certain countries, but "yes there are sensitivities that complicate discussions, and we must take them into account. However there is no list of goods' proposals in this fourth round, although we trust this can happen in the near future".
"Maybe when the time comes we can talk and agree on a calendar, (maybe even a deadline) but we've done it so many times in the past and nothing happened that it's not my main concern", said Aguiar Machado although "EU/Mercosur trade discussions can't go on for ever".
The prospect of a wide ranging association, cooperation and trade agreement of Europe with Mercosur, two of the world's largest agricultural producers, has raised concerns in the continent with a resolution from Greek centre-right MEP Georgios Papastamkos last week gaining widespread support.
In the resolution, Euro-deputies criticised what they said was the EC tendency to conclude trade agreements without taking into consideration the very negative impact these can have on the EU agriculture sector.
MEPs also said an impact assessment should be carried before trade talks start, and called on the EC not to pre-empt decisions on the EU reformed common agricultural policy post 2013.
Under the Lisbon Treaty, the European Parliament has co-ratification powers with EU member states on all international trade agreements negotiated by the commission.
Earlier efforts to negotiate a free trade deal between the two sides broke down in 2004 and last May 2010 both sides agreed to resume negotiations, which triggered fire warnings from ten EU member states.
The group, led by France said the resumption of talks sent "a highly negative signal" to Europe's struggling farm sector, while the EC defends a future deal as having clear economic benefits for both sides.
Supporters point to Latin America's several years sustained growth rate (6% in 2010) and to the strong trade and investment relation Europe and Mercosur which has helped and 'will help' the EU address its current economic malaise.
An EU trade agreement with Mexico in 2000 saw trade increase by 100% over the first five years, with investment increasing by 120%, says the EC.
European farmers unions are worried however that reduced tariffs and greater market access under an EU-Mercosur agreement would see Europe flooded with 'cheap beef imports', among other products.
"If trade is fully liberalised it is estimated that it would result in losses to the EU beef sector of as much as €25 billion" European farm lobby group Copa-Cogeca said in a recent letter to EU Agriculture commissioner Dacian Ciolos.
But EU trade commissioner Karel De Gucht has repeatedly stated he would like to see the Mercosur negotiations concluded before the end of this year. However he pointed out that 'sensitive issues' such as market access are not on the agenda of this week's discussions.
"It's clear that we have a window of opportunity that will not last for ever," says Aguiar Machado. "Today all our regions are too small to face up to the challenge of China alone".
The next round of negotiations is scheduled for May 2 to 6 in Asuncion, capital of Paraguay that currently holds the Mercosur chair.