Wikileaks: Argentina's self centred attitude almost had her thrown out of G20
Friday, March 18th 2011 - 03:45 UTC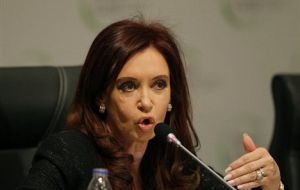 Disappointed and shocked with the self-centred performance of President Cristina Kirchner at the G-20 summit in Washington in 2008, a group of powerful countries seriously considered kicking Argentina out of the industrialized and emerging countries' Group of Twenty.
According to a Wikileaks March 11 cable from the US embassy to the State Department, the possible exclusion of Argentina from the following G-20 forum in London on April 2009 promoted a meeting of Buenos Aires ambassadors and representatives from the G7 plus Spain and Holland, to have Mrs Kirchner not repeat errors and play a more constructive role at the G 20 summit.
The participants of the meeting included US ambassador and host Earl Anthony Wayne; UK ambassador Shan Morgan; Germany's Gunter Kniess; Japan's Hitohiro Ishida and Stefano Ronca from Italy. France was represented by its number two Claudia Delmas-Scherer; Canada by Rejeen Tessier, the European Union Gimeno Verdejo and as special guests Rafael Estrella from Spain and Henk Soeters from Holland.
In his report 16 March 2009 Ambassador Wayne points out that some officials from the Argentine government seem aware that "an Argentina perceived as politically conflictive could be thrown out of the G-20, or actions referred to address the global crisis could be transferred to another forum that specifically excludes Argentina".
However overall the G7-plus representatives were upbeat on the ability of crisis-tested Argentina to weather the current (2008) economic downturn, at least through 2009, but complained about growing Argentine protectionism via non-automatic license non-tariff barriers.
Some ambassadors described Argentina's protectionist policies as "mafia" style. Furthermore they emphasized the importance that the coming Summit conveys a sense of shared conviction and momentum to boost global consumer confidence.
G7-plus Ambassadors agreed on the value of Argentina's participation in the G-20 summit as a way "to expose the parochial Kirchner administration to a broader worldview on global economic linkages and inter-dependence".
They also agreed, however, that convincing mercantilist Argentina to avoid the temptations of protectionism and to reaffirm its earlier G-20 pledge to refrain from raising new barriers to trade in goods and services will be a significant challenge in London.
There was a general consensus that most senior government of Argentina see the need to play a contributing role, but that there was considerable uncertainty over CFK performance: thus the necessity of engaging her to help build a useful outcome in London.
President Obama's called CFK on March 13 for the kind of engagement suggested and then British PM Gordon Brown promised the Argentines a private meeting on the sidelines of the summit.
According to US ambassador Wayne and Canadian ambassador Ted Martin, the G-20 disenchantment with CFK arose from her poor preparation for these summits. Both ambassadors agreed to work together to try to move the Argentines in a positive direction as the summit approached and as they both receive guidance from capitols.
Canadian Ambassador Martin revealed that his deputy minister who had been at the Washington G-20 meeting characterized Argentina's participation "as a blown opportunity" centred in criticizing the IMF and calling for reforms.
Ambassador Wayne said that U.S. officials had told him that President Fernandez de Kirchner "had spoken twice as long as other leaders" and that her message had been very distinct from the other leaders, with a rhetorical and Argentine-centric bent.
Martin said that unfortunately Fernandez de Kirchner has a tendency to give speeches that sound off on her views about the inequity of the world.