Argentina on its way to become net energy importer, claim former ministers
Saturday, March 19th 2011 - 07:19 UTC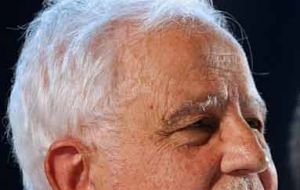 Eight of Argentina's former energy secretaries have released another document highly critical of the government's energy policies. The document, signed by most of the people who have run the Energy Secretariat since Argentina's return to democracy in 1983, is a scathing criticism of government policy.
Allegedly oil production in the Kirchners period (2003/2010) has dropped 18% and gas production, 43%.
"The purpose of this is to inform citizens ahead of the election," former Energy Secretary Jorge Lapena said this week in reference to a presidential election in October.
The secretaries, who point out they can from different political backgrounds, said their consensus on energy policy shows just how mistaken government policy has been.
The document assesses the efficacy of energy policy from 2003 through 2010, the period in which former President Nestor Kirchner and his wife and successor, Cristina Fernandez, governed the country.
Mrs Kirchner has yet to officially declare herself a candidate but has been campaigning aggressively as if she had already decided her bid for another four-year period.
"This has been a period of productive decadence," Lapena said at a press conference with the former secretaries.
Former secretary Alieto Guadagni said this has been the worst decade for energy in the past 100 years. "In no decade did oil or gas production decline before this occasion," he said. "This is due to a collapse in exploration."
Among other things, the former officials highlighted a series of negative data including declining reserves and output for oil, gas and refined fuel products. Oil production fell 18% between 2003 and 2010 to about 34 million cubic meters, according to the document, which cites Energy Secretariat data.
Proven oil reserves fell 11% to 393 million cubic meters. Meanwhile, natural gas production fell 43% to 379 billion cubic meters in 2010, while reserves fell 8% to about 47 billion cubic meters, according to the report.
The former officials said the decline in oil production coincided with a substantial increase in international oil prices, which should have led to increased exploration and production in Argentina. But that didn't happen, largely because of government price caps that crimped profits and discouraged investment in exploration, according to the document.
"The decline in production is not an accident," the document said. "Never has Argentina explored so little as during the presidencies of Nestor and Cristina Kirchner". The document adds that the decline in proven reserves has "no precedent in the last 50 years".
The secretaries finally warned that Argentina is on track to become a net energy importer if it doesn't change course soon. Argentina's imports of natural gas, fuel oil and diesel have soared in recent years as the country's own supply has failed to keep up with rapidly rising demand for energy.
Meanwhile, the country's energy matrix has shifted and become more dependent on thermal generation and less reliant on hydropower or nuclear generation.
But Argentine officials have said in the past that the country's shifting energy needs are a consequence of booming economic growth and evidence that the government's economic model is working well.