Argentine union leader Moyano says workers must be included in ballot tickets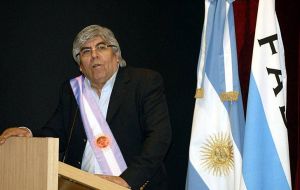 Argentina's organized labour leader Hugo Moyano called on Wednesday for additional workers' presence in the ballots for the coming October election. "It's not possible that us workers, who created Peronism, are excluded from the ballots" he said.
He also urged President Cristina Fernández de Kirchner to seek re-election. "We hope that the President makes a decision and puts and end to our anguish," he added, within the CGT Labour Confederation commemoration of the 1976 coup d'etat.
There are "things I would like to see changed", added Moyano. "We built Peronism, the rest of society joined later, I mean workers, intellectuals, professionals…but there are some who have taken control of the party and want us 'little sweat shop slaves' join in the marches and vote, but when ballots presence comes, we are left out".
"I'm not at odds with the Government House, like some media outlets say. During the last 7 years we have acted with loyalty towards Néstor Kirchner's administration and Cristina Fernández de Kircher's administration. They helped us workers recover our dignity," he said.
"We have acted with loyalty supporting Nestor Kirchner and Cristina Kirchner, and we will continue to do so, even when certain media want to see a confrontation. Today, more than ever we remain supportive and loyal".
Moyano emphasized that there is no more loyalty to the Peronist cause than that of workers, because Peron always stated we were right, we are the loyal ones".
Further on he again rejected any relation with the Covelia rubbish collecting company and revealed that the CGT labour confederation filed a complaint before justice, arguing that "the investigation against him led by a Swiss court was based on irregular procedures"
Moyano's lawyer, Daniel Llermanos, said that the CGT leader had filed a lawsuit in Judge Norberto Oyarbide's court over "procedural fraud."
"We received some very important information from Geneva that allows us to infer that the international request sent to the Foreign Ministry, requesting information on Moyano and his son was originated in the country and is all part of a media operation," he assured.
Moyano allegedly believes that through a complex network or personal relations, the Federal Justice was the victim of a "procedural fraud" that looked to damage his image and his relationship with the government.
The labour leader is apparently targeting a certain mayor in the Greater Buenos Aires area who he says flew some newspaper clippings to Europe in order to "let the Swiss justice believe that this was a money laundering case."
He is also going after a former diplomat who worked as a Swiss ambassador in Argentina.
"We believe a mayor flew to Switzerland in order to deliver several months-old newspaper clippings to the Swiss authorities in order to talk them into launching an investigation," the lawyer said, although he refused to say who the government official is.
The former Swiss ambassador to Argentina is Carla del Ponte.
"This inquiry was started by fake information sent to Switzerland. This is very strange and it must be cleared up, that's why he decided to file a lawsuit," the lawyer concluded.