Montevideo received almost a million tourists in 2010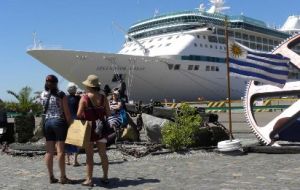 Uruguay received 2.4 million tourists during 2010, 34% of which the capital Montevideo and if the cruise visitors are added the final number jumps to 930.000, according to Luis Polakof, head of the city's Economic Development Department.
Overseas tourism in 2010 for Uruguay generated 1.5 billion US dollars, which is equivalent to 4% of the country's GDP, while the industry represents 125.000 direct and indirect jobs.
"Montevideo contributed with 430 million USD and attracted 34% of tourists, which added to the cruise visitors (113.000) totals 930.000 tourists", said Polakof. He added that the number represents an 18% increase over the previous (2009) season.
Domestic tourism is estimated to have generated 355 million US dollars with seven million domestic trips. For people leaving Montevideo, the main destination was Maldonado, followed by Rocha, both provinces well known for their sea resorts.
Polakof revealed that Montevideo in 2009 had 9.700 hotel beds and with the current construction, capacity will expand an additional 1.200 beds. Ten new hotels and apart-hotels are being built in Montevideo with an overall investment of 130 million US dollars.
Finally Polakof said that the Montevideo City council target was to have a million tourists annually by 2014, however given the rate of increase "we expect that this year we will be surpassing that number".