Argentine Jewish organization denies any pact between Buenos Aires and Teheran
Tuesday, March 29th 2011 - 17:41 UTC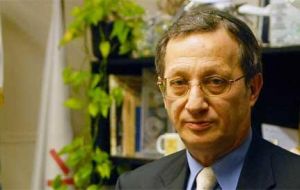 The Buenos Aires Jewish organization AMIA which suffered a deadly attack in 1994 denied the existence of an alleged pact (in the making) between Argentina and Iran which would put an end to the investigations related to the bombing in exchange for the resumption of trade links with Teheran.
The alleged pact between Buenos Aires and Teheran is "false news. There are too many dead people. There's a strong commitment from Argentine president Cristina Fernandez de Kirchner to go to the end with clearing up this case", said Guillermo Borger president of the Argentine Jewish Mutual Association, AMIA
Last Saturday the Buenos Aires daily Perfil, usually well informed, published that a secret document in the hands of Teheran has a proposal to leave aside the investigation into the bombing which caused 85 dead and over 300 injured in Buenos Aires in 1994.
Allegedly, according to Perfil the document has the support from Argentine Foreign Affairs minister Hector Timerman and the main purpose is to improve economic and investment relations between Argentina and Iran.
The news on the secret accord "came to us as a surprise and it is not true", insisted Borger who is attending the World Jewish Congress in Sao Paulo, Brazil.
On Monday the Argentine Foreign Affairs ministry made no statements on the news published Saturday.
Argentine courts have accused former Iranian officials and diplomats among which former president Ali Rafsanjani (1989-1997) of involvement in the anti Jewish attack but none of them have been questioned since Teheran rejects point blank the claim.
Similarly Aldo Donzis, president of the Argentine Israelite associations' delegation, DAIA, the community's political branch expressed Monday their incredulity.
"It's hard to believe that a government which has repeatedly and publicly promised to do everything possible to crack the bombing case and request UN to ask Iran to collaborate with the judicial investigation, has decided in fact to suspend such inquiries", said Donzis in an official release from DAIA.
Relations between Buenos Aires and Teheran entered in collision course when former Argentine president Nestor Kirchner went ahead with the request from prosecutor Adolfo Nisman who, based on available evidence, said Teheran was responsible for the bomb attack against the Jewish organization, which has over 300.000 members in Argentina.
The idea of an agreement in the terms claimed between the two countries "is absolutely preposterous, absurd and even impossible to accomplish. To be honest it has been some time since I heard such nonsense", said Prosecutor Nisman interviewed by the Buenos Aires press.
On request from Argentina Interpol has issued arrest warrants against several former Iranian officials.
The attack against AMIA, 18 July 1994, with a van-bomb was the most serious in Argentine history, and happened two years after an explosion levelled to the ground the Israel embassy in Buenos Aires killing 29 and injuring 200.