Cristina Kirchner will head April 2 Malvinas Veterans Day in Rio Gallegos
Tuesday, March 29th 2011 - 19:44 UTC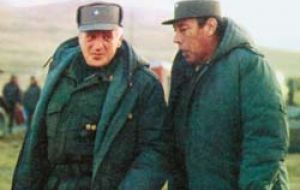 Argentine President Cristina Fernandez de Kirchner will head the main commemoration of Malvinas Veteran and Malvinas Fallen Day next Saturday in Rio Gallegos, Patagonia which will be attended by former combatants and next of kin from those who lost their loved ones during the 1982 South Atlantic conflict.
The ceremony will begin at 14:30 hours Saturday April 2 and "President Cristina Kirchner will be surrounded by Malvinas veterans and their relatives from all over Argentina", said government sources that also confirmed a full calendar of activities this coming week in different points of the country.
These activities are organized by local Malvinas Veterans and Relatives centres among which the traditional Friday-Saturday vigil in Rio Grande, Tierra del Fuego, while the Malvinas fallen next of kin commission has organized a mass in Buenos Aires metropolitan cathedral Saturday 18:00 hours to honour the memory of those who never came back and thank the Argentine people for its support in making possible the Memorial at the Darwin Cemetery in the Falklands.
As of April 4 a high definition film titled "June 14, what was never lost" will be shown in several cinemas across Argentina. According to the script the film recollects the lives of a group of soldiers sent to the Falklands/Malvinas for the last day of fighting.
Finally the Argentine government news agency Telam will open a photo-exhibition, "Telam-Malvinas" in honour of all those journalists, photographers and technicians that covered the conflict for the agency. The exhibit in Buenos Aires will extend from April 4 to April 17.
The Falklands/Malvinas conflict begun April 2 with the invasion of the Islands by a combined Argentine military force and ended 74 days later, June 14, when the Argentines surrendered to a British Task Force sent to recover the Islands.
The military defeat in Malvinas triggered the collapse of the Argentine Junta and military governments in power since 1976. A year later, the Argentines went to the ballot box and a newly democratically elected president took office on 10 December 1983.