Argentina's high expectations for the squid season are rapidly fading
Friday, April 1st 2011 - 01:22 UTC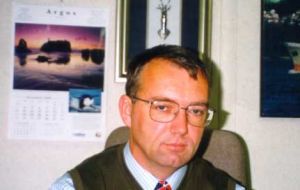 Encouraging expectations for the Illex argentinus squid season appear to be fading in Argentina. Following a start with good catches and high expectations, the average daily output of squid is now only around five tons in the area between parallels 44º and 46º South Atlantic.
In mid February, average daily catches of squid in Argentine waters averaged 20 tons. At the time there was no activity outside Argentina's Exclusive Economic Zone (EEZ) and there were questions about what would happen in waters near the Falkland Islands.
When the season took off February first the number of jiggers was 32, but now is down to 22, according to a map published at the site of the Argentine Under Secretary of Fisheries. Moreover, the National Institute for Fisheries Research and Development (INIDEP) suspended a scientific cruise of the Eduardo Holmberg last month.
"Apparently, South Patagonic squid stock moved into the Falklands exclusion zone. Now only fishing vessels with licenses from the Islands are operating," said Guillermo de los Santos, president Argentina's Chamber of Jiggers Fishing Ship-owners, CAPA.
"According to reports from observers on board, 80% of females are laying eggs, meaning catches are now very poor and small in size at S/M," the President of CAPA told Pescare.
"Situations at sea are changing: we have reports of rare temperatures. We have high surface temperatures and some other places are too cold. Oceanographic change is the real question behind what is going on", admitted de los Santos.
For the moment, in the area located west of the Falklands, 88 vessels with licenses from the Falklands government are reportedly recording good levels of catches.
Argentine vessel owners are also complaining about the distribution of licenses, which is described as "irresponsible, generous' and has no scientific support.
Santos blames the Chinese and South Korean vessels outside Argentina's EEZ for the steep reduction in Illex catches, and also points to vessels with fishing licenses from the Falkland Islands..
Falkland Islands Director of Natural Resources, John Barton said: "Any vessel can affect stocks: this includes tall ships in Argentine and Falkland Island waters".
"It is precisely for this reason we advocate a regional fisheries management organization and a data collecting process for the southwest Atlantic and the Illex in particular. We also support the scientific work conducted under the auspices of the South Atlantic Fisheries (SAFC) and the progress made in this regard throughout the process," he continued.
According to official data provided by Argentine Fisheries, between January first and 28 March 2011, squid catches totalled 22,168.1 tons of squid were caught, which is 11.7% less than the same period of 2010, when 25,080.7 tons were landed. (FIS/MP).-