"Loyalty rewards loyalty" message from Moyano to Cristina Fernandez
Friday, April 1st 2011 - 00:31 UTC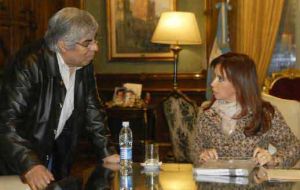 Argentina's powerful organized labour leader Hugo Moyano has sent another strong message thanking workers for "being loyal to him" at the same time his teamsters were granted a 24% rise in wages.
"Loyalty can only be rewarded with loyalty, and loyalty is all I have for you. Thank your for being loyal to me", said Moyano addressing all unionized labour under the organization he commands, the CGT Labour Confederation.
However the message according to some analysts could also have been aimed to the Argentine government following on recent events which allegedly involved him in money laundering and are under investigation by a Swiss court based on "irregular procedures".
The procedures refer to alleged links of Moyano with the Coveila rubbish collecting company as well as the bank's account in Switzerland.
Moyano has also been insisting on his full support for the re-election or President Cristina Fernandez de Kirchner and has asked for her to make the formal bid, but has also demanded that an organized labour representative should run as vice-president in the ticket for October 23 election.
Rumours indicated that the government's inactivity showed right after the Swiss court triggered the investigation could have been a manoeuvre to get rid of the unionist who besides being the most powerful ally of the government, has lately increased his power in such a way that many members of the Kirchner administration are seeing him as a headache for the president's plans.
"Some people accuse Moyano from being too powerful and say they are afraid of me, but what they are really afraid of is from the workers movement. But we do not want them to be afraid of us; we just want them to respect us", said Moyano.
Moyano also encouraged all workers to "pack the 9 de Julio Avenue on April 29 to commemorate the Worker's Day, and demonstrate to those who constantly attack us whether the workers movement believes Clarín or Moyano We'll show them what's good."
The former teamster addressed a large crowd at a stadium as part of a tribute rally to former 1980's CGT boss Saúl Ubaldini and the March 30, 1982 rally when CGT members marched against the military dictatorship and were repressed mercilessly.
Meantime in Government House Labour Minister Carlos Tomada announced that truck drivers will get 24% raise in wages. The raise shall be implemented in three stages beginning with a 12% in July, 6% in November and an additional 6% in March 2012.
The announcement took place after CGT Labour Confederation leader Hugo Moyano met with President Cristina Fernández de Kirchner in Government House. Moyano's son, Pablo, is currently head of the truck driver's union.