The delicate balance of 'cooperation' and 'competition' between China and Brazil
Saturday, April 2nd 2011 - 06:53 UTC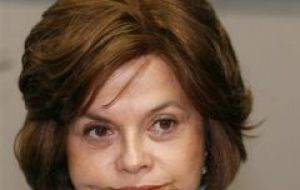 Brazilian president Dilma Rousseff and her Chinese peer Hu Jintao will address the Libyan crisis and other issues related to the Chinese currency, Yuan, which has Brazilian manufacturers most concerned, anticipated the Brazilian Foreign Affairs ministry.

"Brazil and China share positions in many issues of the global agenda" and Libya is an issue which interests both countries, said Ambassador Maria Edileuza Fontenele Reis during a press round at Itamaraty.

Rousseff will be making her first official visit to China in two weeks time in coincidence with a summit of leaders from BRICS the group which also includes Russia, India, China and the latest addition South Africa.

The Brazilian president is scheduled to stay four days in China.

Ambassador Fontenele Reis said that relations with China are "crucial" for Brazil, which last year became the country's main trade partner displacing United States with bilateral exchanges reaching 36 billion US dollars.

However the Brazilian government spurred by local industrial associations is increasingly concerned with the advance of Chinese manufactured imports in the domestic market because of what it describes as the "cheap Yuan".

"We have a promising future with China, but we also have foreign exchange difficulties", admitted the ambassador while bilateral discussions are ongoing to agree on the content of Rousseff's agenda for her coming trip.

Between the Asian and Latinamerican giants, "there's a delicate balance between 'cooperation' and 'competition'" said Ambassador Fontenele Reis.