Uruguay's public debt to abandon foreign currencies for local Pesos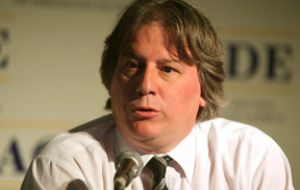 Uruguay this year plans to swap part of its foreign-currency bonds for debt denominated in Pesos, said Economy Minister Fernando Lorenzo. Uruguay will also sell Peso securities and use the proceeds to pay off bonds denominated in other currencies, Lorenzo said without providing further details.
Minister Lorenzo said on Wednesday addressing a working lunch with local entrepreneurs that the objective is to reduce the amount of debt that is denominated in foreign currencies to 55% of the total from 65% at present.
"In 2011, we are going to achieve the conditions that will enable Uruguay to deserve investment grade," said Lorenzo. "We are barely recognized by the risk rating agencies."
Uruguay is currently rated Ba1, one level below investment grade, with a stable outlook at Moody's Investors Service; BB+, one level below, with a stable outlook at Standard & Poor's; and BB, two levels below investment grade, with a positive outlook by Fitch Ratings.
The three companies assigned investment-grade ratings to Uruguay in 1997 before reducing them five years later after neighbouring Argentina defaulted on 95 billion of debt and its economy went on a free fall contraction.
However Uruguay's economy has been growing sustainedly since 2003 and even managed to avoid the 2009 global recession.
Uruguay as many other developed countries, rich in commodities and with a stable economy has been flooded with dollars from investors looking for better yields than in the developed countries. Because of this and in spite of massive purchases of US dollars by government banks the Uruguayan peso rose 4.7% this year, the third-best performer among South American currencies, and also seriously undermining export competitiveness.
Lorenzo also announced that together with the Ministry of Agriculture and Livestock it will facilitate the import of vegetables and fruits in an attempt to help contain inflation which in the first quarter is close to the Central bank's target for the whole 12 months.
"Containing prices has become a priority for the government", said Lorenzo who denied versions about an "agreed" price freeze with some of the main food suppliers and distributors.
However the Uruguayan government has virtually decided to "freeze" the price of fuels given the international volatility. Uruguay is a net importer of oil and gas with no other power resources than hydro-electricity and budding wind farms.
Finally Lorenzo said that in 2012 the government will elevate the floor for income tax statements and will effectively cut two points from VAT, which currently stands at 23%.