Argentina promotes meat production with subsidized loans
Friday, April 8th 2011 - 23:26 UTC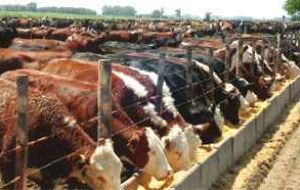 Argentina plans to extend the equivalent of 750 million US dollars in subsidized loans to meat producers to spur increased production of beef, chicken and pork.
The government will pay 6 percentage points of the interest rate on the five- year loans, bringing the financing cost to producers to between 8% and 9%, Agriculture Minister Julian Dominguez told reporters when announcing the plan.
That's sharply lower than market rates and is an even better deal for ranchers and other meat producers considering Argentina's steep inflation, estimated by economists at about a 25% annual rate.
That inflation, and a severe drought in 2009 which led ranchers to trim cattle herds, caused local meat prices to soar, more than doubling over the last year.
As a result, per capita consumption of beef has dropped over 15% from a year earlier, according to the beef chamber Ciccra. Argentines are now eating an average of 57 kilograms of beef a year, still one of the highest rates in the world, but below neighbouring Uruguay.
Now many ranchers are getting back into the business after the government lifted price controls. But it will take years to rebuild the herds, with production levels not getting back to normal until 2014, according to Ciccra.
There has also been a big shift to the use of feedlots through government incentives designed to boost efficiency and production by turning grain into meat. Just a few years ago, cattle feedlots were a fledgling industry in Argentina, but now they produce half of all the country's beef, according to the Argentine Feedlot Chamber.
Historically Argentina has had a herd in the range of 55 to 58 million head of prime British breed cattle. However that is believed to be below 50 million currently.
Beef exports have also suffered due to tight local supplies and the high prices for meat sold domestically.
Argentina was the world's No. 3 beef exporter in 2008, when it shipped 655,000 tons, but is expected to slip to eighth place this year with just 300,000 tons, according to the U.S. Department of Agriculture.