Mercosur provides 3% of EU imports, which represent 20% of the block's exports
Friday, April 8th 2011 - 03:14 UTC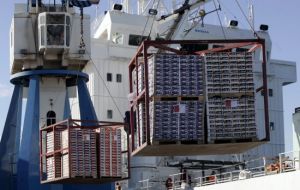 "Argentina is not a great trade partner for the European Union in absolute terms, but the EU is a crucial partner for Argentina", pointed out the head of the EU delegation in Buenos Aires Alfonso Diez Torres.
Mercosur senior partners, Brazil and Argentina represent 2.79% of all EU outer zone imports equivalent to 41.6 billion US dollars. Argentina's share is 0.63% (9.34 billion USD) and Brazil's 2.16% (32.27 billion USD).
EU absorbs 20% of Mercosur exports and EU sales represent 13% of the South American block imports. Argentina's imports from EU are equivalent to 0.55% of the 27 countries outer zone exports.
Diez Torres added that "60% of Argentina's exports" to the EU is made up of "food items and live animals" while Argentina imports mainly "capital goods and intermediate inputs, equivalent to 32% of the country's total overseas purchases, which soared 47% in 2010 over the previous year.
For Argentina, the EU is the second trade partner behind Brazil, and if countries are considered individually China jumps to second place with an overall trade of 13.45 billion US dollars. With Brazil Argentina has a trade deficit of 3.4 billion USD and with China, 1.85 billion USD.
With EU and China, Argentina's main exports are commodities, mostly unprocessed, a condition the government of President Cristina Fernandez de Kirchner is in the process of trying to modify.