Mercosur costs and growing domestic demand limit beef export volumes
Monday, April 11th 2011 - 06:22 UTC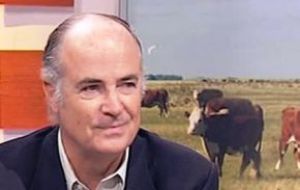 With stronger local currencies Mercosur main beef exporters, Brazil and Uruguay are finding it more profitable to supply their domestic markets than exporting, in spite of growing international demand.

This phenomenon is clearly evident by the beef per capita consumption in Uruguay and Brazil which in the first case has jumped from 47.6 kilos in 2005 to 62 kilos in 2010 (the highest in the world), while in Latin America's largest economy its 200 million have increased consumption by three kilos per capita, which means an additional 600.000 tons demand from the domestic market.

Meantime in Argentina, erred farm policies have cost the national herd 12 million head of cattle and per capita consumption has dropped below 50 kilos, and is estimated will take several years to recover pre-crisis levels.

"In Brazil and Uruguay with a re-valued foreign exchange rate and growing economies, beef consumption is up", says Daniel Belerati, Uruguay's abattoirs representative at the national Meat Board. "And will continue as long as Brazil keeps to its current economic policy".

Furthermore with a stronger currency, Uruguay's costs have soared and the export equation even with strong overseas demand just matches costs and is therefore more profitable to supply the home market.

"The high price of livestock is accepted by the local market but not necessarily overseas. Gradually scarce livestock, strong domestic consumption, GDP growing steadily and the over valued Peso, makes both Brazil and Uruguay countries with a greater home demand and less surpluses to export, all obviously in dollar values and the distortions it is causing", adds Igancio Iriarte an Argentine livestock and beef economist.

But Belerati also recalls that the current values for the ton of Uruguayan beef "are almost the same as those of August 2008, a record year, and a month before the global financial crisis which saw the price for beef tumble by 50%".

Irarte goes further and argues that in spite of the strong international demand, "they can't pay more for our beef" simply because before it reaches the European or Russian consumer "there are other costs, which makes it more interesting for abattoirs to supply the home market".

But Iriarte also warns that at the current level of prices for livestock in Mercosur, "international markets won't resist them and this means Uruguay is self excluding itself from international markets it took years to conquer".

Another issue brought up by Iriarte is not only that livestock numbers are insufficient to supply both markets but also that Uruguay has a surplus abattoir capacity which means fierce competition among the different plants.

Uruguayan frozen beef exports last March was selling at an average price of 5.919 US dollars the ton, which is just below the all time record of 5.970 US dollars per ton, before the 2008 global crisis took off with the collapse of world markets.