Chile winery expands in Argentina to double production in five years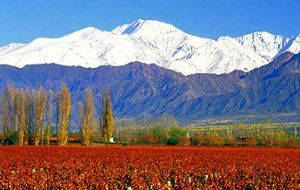 The Chilean wine company Viña Montes plans to invest 20 million US dollars in vineyards on the other side of the Andes in neighbouring Argentina, where it expects to double production over the next five years.
"In the nine years we've been in this country (Argentina) we have invested nearly US$20 million," said the company's co-founder Aurelio Montes. "Now that our operation is stronger and we are among Argentina's 15 highest-exporting wineries, we decided to double our production."
Sales and profits from the premium Kaiken vineyard in Argentina grew by 50% during 2010, earning profits of US$11 million. A case of wine from Viña Montes costs an average of US$55 within Chile.
Vina Montes currently owns 300 hectares of the Kaiken vineyard, producing 200,000 cases per year. New investment will bring this total to 600 hectares with a capacity of 400,000 cases per year. Around 95% of this will exported to foreign markets.
This expansion will help the wine producer reach its main goal of distribution in 110 countries worldwide.
Not content to simply expand production Viña Montes also has plans to increase the variety of wines available to their customers.
Currently the Malbec varietal makes up the largest percentage of bottles produced by the company in Argentina. The grape is currently experiencing a boom in U.S. markets.
The vineyard is also looking to increase production of Sauvignon Blanc, Cabernet Sauvignon and Syrah, and to introduce a premium sparkling wine.
By Mark Briggs – Santiago Times