Argentine soy-oil industry diversifies markets following China's ban
Thursday, April 14th 2011 - 19:47 UTC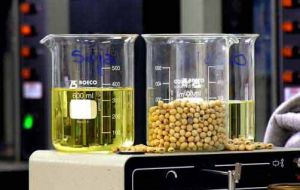 China is far from normalizing soy-oil purchases in Argentina since it has not placed new orders according to the Argentina Cooking Oil Industry Chamber, CIARA. However the industry has managed to diversify markets.
The latest deals date back to October following the lifting of the ban on purchasing soy-oil from Argentina which Beijing implemented in reprisal for Argentine barriers to Chinese imports.
"They are not buying; the last operations were in October and were shipped on the following months, but there are no new orders", said Alberto Rodriguez CEO from the Argentine Cooking Oil Industry Chamber. "We believe the problem rests in the overall bilateral trade".
According to Argentine sources, to access the Chinese market Argentine soy-oil must accept rebates of up to 30% per ton compared to the Brazilian soy-oil, which has become the main competitor.
"China already purchases more oil from Brazil than from Argentina" according to a report from the Argentine Regional Consortiums on Agriculture Experimentation Association. From April 2010 to January 2011, China's purchases were concentrated 65% in Brazil, followed by 29% from the United States and 6% from Argentina, when a year ago the list was the other way round.
Argentine official export statistics also support the soy-oil industry: during 2010 sales to China totalled 208.793 tons equivalent to 190 million US dollars which represent a fall of 89% and 86% in volume and value compared to 2009 soy-oil sales.
Furthermore following on October purchases, shipments to China during the first two months of 2011 have totalled 22.000 tons, well below the 95.500 tons from the first two months of 2010.
Nevertheless Argentina managed to increase sales to Egypt, India, Venezuela and the Dominican Republic and the soy-oil industry is now geared to bio-diesel both for the domestic market and overseas.
"We don't have an idea when China will resume, if it does, soy oil purchases, but the industry had to find other channels for its production", said Rodriguez who points out the situation could be seen coming since China's policy is to process the beans in its own plants.
In 2008 China purchased 9.2 million tons of Argentine soy beans; 3.1 million the following year because of the drought and 11.8 million tons in 2010.
Gabriel Perez from Mercampo, an Argentine agriculture advisory group points out that 20 years ago only half a million tons of soy were processed in China, now the volume is 60 million tons.
"Argentina has not lost its main client in 2010. Most of what was sold has been redirected to India and other countries and converted into bio-fuels", points out Perez.