Argentina has not replied IMF recommendations for an inflation index
Saturday, April 16th 2011 - 10:02 UTC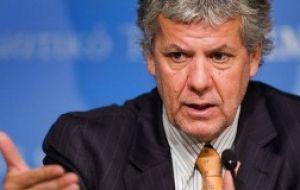 IMF Western Hemisphere Director Nicolás Eyzaguirre said the organization had not yet received any official communication from the Argentine government regarding IMF recommendations over its inflation index.
"It is up to the authorities to make it public. It is in their hands and we have not received yet any communication whether they intend to follow IMF recommendations or not" said Eyzaguirre at a press conference in Washington.
On Monday the IMF said they had presented the report on inflation indexes to Argentine authorities with specific recommendations over the design and development methodology of a new Consumer Price Index (IPC).
An IMF Technical Assistance mission headed by Carlos Medeiros, counsellor of the Western Hemisphere Department visited Argentina for several days collecting information from different government offices and provincial departments.
Under-secretary for the IMF Western Hemisphere Department, Gilbert Terrier said that everybody knows that the IMF is assessing the index and that "no matter which price index we analyze, what we see is that the monetary expansion is growing, between 20 and 30%", besides the fact that new labour contracts percentages are significant.
Eyzaguirre was also asked about capital controls and stated that financial stability is one of the main mandates of the IMF, but there is no specific mandate to recommend policies involving capital controls.
"We don't tell the countries if they can apply or not these types of controls, but we do tell them if a particular measure or concept is correct" Eyzaguirre underlined
Nevertheless Eyzaguirre insisted that global stability needs international cooperation. "We know (the capital inflows) is going to be a long process and debateable. For example, some countries consider that we never mention the capital controls and others have questioned us arguing we want to enforce them. We only warn countries and give our opinion over the issue that could eventually affect global financial stability".