Argentine official statistics show poverty is down 9.9% in second half of 2010
Thursday, April 21st 2011 - 06:35 UTC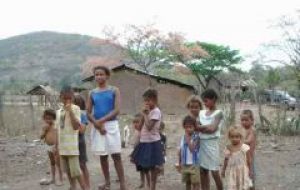 Argentina's National Statistics Agency, Indec, announced Wednesday that poverty levels lowered in the second half of 2010, with 527,000 households below the poverty line (6.8%), which include a total of 2,475,000 people (9,9%).
Inside that category, 168,000 families (2.1%) are found to in absolute poverty, with an estimate of 619,000 homeless people in the country (2.5%).
According to Indec's release in comparison to the second half of 2009, a decrease in relative and absolute poverty levels can be observed, with 165,000 households moving above the relative poverty line, which translates into 673,000 people obtaining a better quality of life.
In the same way, 58,000 families seem to have left absolute poverty behind, which translates into 228,000 people that now have their basic needs, covered.
Indec reports show poverty levels in Argentina have been in steady decline since 2003. However the quality of Indec statistics has been questioned since former President Nestor Kirchner replaced technical staff with political cronies.
Since then statistical information has coincidently proven to be in line with government intentions or wishes, which has triggered a serious controversy.
The discrepancies are more evident with inflation figures, which according to Indec are in the range of 10% to 11% annually, but private consultants and analysts consider the percentages are much closer to: 25% to 30%.
Furthermore civil courts in their rulings appeal to an average of several private estimates and labour agreements are reached on the basis of annual adjustments in the range of 15% to 20%.
Several provinces with the sufficient financial autonomy have their own statistics offices and their results are much closer to private estimates than to the official Indec
But the administration of President Cristina Fernandez de Kirchner has managed to contain the release of (non desirable) statistical data by threatening to impose fines (and has done) on those private organizations that do not make public their methodology or systems to calculate indexes.