Falklands' market garden approaches 25th anniversary against all odds
Monday, April 25th 2011 - 18:59 UTC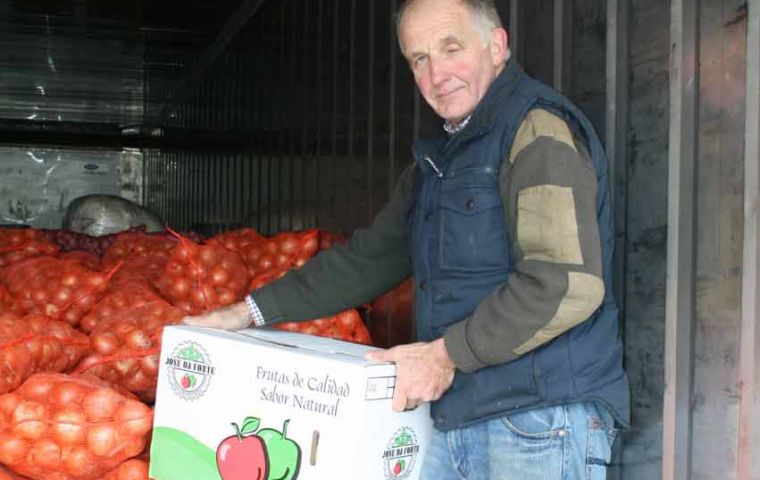 Almost twenty five years after its inception, and despite setbacks primarily brought about by Falklands/Argentine politics, the bustling market garden, Stanley Growers, on East Falkland Islands, now prides itself on being in the top three countries in the cruise ship catering world for the quality of its produce.
Owner Tim Miller told Mercopress the company now provides around 10 tons of mostly salad produce to visiting cruise ships, plus approximately 3 tons of imported fruit from Chile and the UK: "…such as items they cannot obtain in Ushuaia like quality Chilean grapes and stone fruits and UK parsnips and swede and apples while they're out of season in South America."
Stanley Growers also provide around 5 tons of local produce to fishing vessels and about 30-50 tons of imported produce.
"But of our own produce cruise ships are our biggest offshore customers. They take all the summer surplus peak production," said Tim.
"Cropping area is based on long season supply to the local and British Forces Falkland Islands' market, but tomatoes are not like cans of beans - you don't make the same number per day. You get a summer peak cropping which is well above what we can sell locally - this is what we aim to sell offshore to the cruise vessels."
The cruise ship industry is vital to the Miller's business, "…without it we would lose the market for about 20% of our summer peak income - and have to dump it"
That is precisely what they had to do in the immediate aftermath of the Argentine ban on charter flights to the Falkland Islands in 2003.
"For several years we lost a lot of money; it's only just in the last few years we have been winning our customers back again."
"Large single ship sales stopped with the flights ban in 2003 which prevented cruise ship passenger turnaround in the Islands – prior to that a single ship could easily purchase a total of all products including imported of £10,000 plus - nowadays they buy mostly fresh salads but some will stock up heavily on Falklands fish and lamb via us from fishing company Golden Touza Ltd. and the Falkland Islands Meat Company; those two alone can easily add up to £3-4000."
Stanley Growers regular clients include German vessels Bremen, Hanseatic and the Christopher Columbus, and American ships NG Explorer and Clipper as well as the Norwegian Fram. While most ships order well ahead, others might only give 36 hours notice if they have had a poor delivery in Ushuaia.
The company delivers directly to the vessel if it has berthed at the dock or via launches otherwise.
Tim said, "We know the provision staff and chefs well and whenever a new one arrives we like to show them around. One German chef said to me 'in Ushuaia we receive boxes of stuff in Port Stanley I receive fresh produce…
"While several vessels now start their cruise from Ushuaia they only load salads there for two days to get to Stanley, here they load for the twelve to fourteen day Antarctic cruise."
Unusual delivery destinations for Stanley Growers produce include Ascension Island, South Georgia, Deception Island and Ushuaia: "The idea of tourists sailing down the Beagle Channel dining on Falklands salads … gave a nice feel good factor."
Stanley Growers consists of just over three quarters of an acre of hydroponics salads, half an acre of soil-based poly-tunnels and approximately 20 acres of cultivated fields.
The hydroponics system was developed in the 1970-80s initially in Europe; today about 90% of salad products purchased in Europe, North America and the Middle East are hydroponically grown. (Today even the British Antarctic Survey Halley Base has its own small unit.)
Stanley Growers was created in 1987 by the Falkland Islands Development Corporation. Tim joined the company the following year and in 1996 he and wife Jan purchased it. They employ eight staff and another six in the sister business Stanley Nurseries.

By Lisa Watson - SeAledPR - Stanley