Argentina will limit farm land holdings and purchases by foreigners
Thursday, April 28th 2011 - 02:54 UTC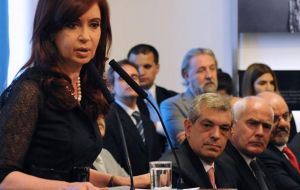 Argentina said on Wednesday it will restrict foreign ownership of farmland. President Cristina Fernández de Kirchner made the announcement during a televised speech at Government House saying she was sending a bill to Congress which will cap land ownership for foreigners.
The President revealed that she intends to send the new property law proposal dealing with land possession to Congress with hopes of, "conserving a national domain, rather than State".
She added that the bill is not intended to bring farm land under 'state control' and on the contrary is geared to help Argentines make the most of the country's farmland.
The new law, if approved by Congress, will restrict foreigners land purchase ability, reducing it down to just 1,000 hectares.
"It's a law which hopes to conserve the national domain over land ownership, as it is aimed at Argentines, especially those who have the capacity to invest in and implement land production" President Cristina Fernandez said during the speech.
She further affirmed that the project to be put forward is "open to negotiation" and established "limitations over thousands of hectares of land bought by foreigners".
The project also proposes the creation of a National Registry of Lands, which will depend from the Ministry of Justice.
During the same speech she reaffirmed her dedication to the "country" and the "people", but also "with whom hasn't been here for exactly six months," referring to her husband, the ex-president Néstor Kirchner, who passed away suddenly in 2010.
The bill proposed for Argentina follows a tendency in Mercosur countries. Brazil already has legislation limiting the purchase of land by foreigners; in Uruguay every farmland transaction gives the state the first option and in Paraguay, land property is restricted to nationals, although for years there have been ways of circumventing the norm. The current administration is looking into ways of eliminating loop holes.