Brazil's bank lending slows down as government curbs credit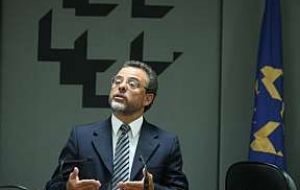 Brazil's bank lending expanded in March at the second-slowest pace in 13 months as the government stepped up efforts to contain demand and inflation by curbing credit to consumers.
Total outstanding credit rose 1% in March to 1.75 trillion Real (1.11 trillion US dollars) from a revised 1.73 trillion Real in February, down from a 1.3% increase in the previous month, the central bank said in a report distributed Wednesday in Brasilia.
The average interest rate charged on consumer loans rose to 45% in March, up from 43.8% in February, the bank said.
Brazil's government since December has taken steps to curb consumer credit growth, including higher interest rates, as it seeks to slow economic growth and tame the fastest inflation in 29 months. Annual credit growth will slow to 13% by year- end from 20.7% in March, which will help rein in consumer prices, Tulio Maciel, head of the central bank's economic department, told reporters.
Credit figures confirm "a positive trend" with a slowdown in the pace of loans granted by the state development bank, according to a note sent to clients by Enestor dos Santos, senior Brazil economist for BBVA in Madrid.
Similarly credit from Brazil's Development bank, BNDES, grew at a monthly average of 0.5% in the first quarter, down from 2% a year ago.
"This moderation suggests that the BNDES will contribute to the government's efforts to control credit growth and overall overheating risks," Santos said.
"This follows a very strong expansion observed since the beginning of the crisis (2008/09), which was initially very helpful in supporting Brazil's recovery but now very harmful given the excessive dynamism of credit markets in an environment where the economy has been overheating."
Fuelled by expansion of credit and job creation, domestic demand helped Latin America's biggest economy grow 7.5% last year, the fastest growth in more than two decades.
Central bank President Alexandre Tombini told lawmakers March 22 that consumer credit growth above 15% needs to be monitored closely. The bank "will make the adjustments that are needed to prevent imbalances from arising," Tombini said.