Face bombast with reason British official tells Falklands
Friday, April 29th 2011 - 05:53 UTC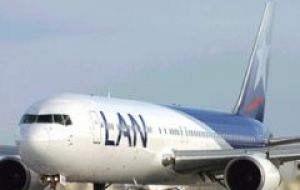 "IN the face of bombast you can show reason and humanity" was the message a Foreign and Commonwealth Office (FCO) official carried to the Falklands this week.
Martin Longden, Deputy Director of the Overseas Territories Directorate was describing what the British Government views as the most constructive response to Argentina's loud narrative on the Falkland Islands.
At the same time Mr Longden assured Islanders that the interruption to communications links caused by Argentine shipping decrees, is viewed as "…serious and important," by the British Government. He said it had been made very clear to him (by the FCO) that he should work with Falkland Islands Members of Legislative Assembly to ensure the links were enhanced.
Asked whether the current British Government was more rigorous than the last in support of the Falklands in dealing with the problems caused by Argentina, Mr Longden declined to compare, but said "It is absolutely true that this government have absolutely huge support and interest in what happens here," adding that the government "…has 110% support," for Islanders.
He noted: "…diplomacy is not always visible, some is below the waterline …but we will continue to do that and do more of it."
This, he said, would include, "…talking more confidently and more energetically about the people of the Falkland Islands," describing Islanders as "…a fantastic asset in that regard."
Mr Longden believes that between the Foreign and Commonwealth Office, Government House, Members of the Falklands Legislative Assembly and the wider community, it is important, "…to show what this place is all about."
Mr Longden, who spoke to many Islanders during his visit, including a number on West Falklands, said he had not been surprised by the concerns that had been expressed to him, most of which related to communications links: "…and their concerns are not wrong… it is vital to your economic prosperity … it is my job to do what I can to help."
The Deputy Director said, "…no matter what happens over there (Argentina) my objectives are very clear," adding he had "…no diplomatic magic wand, "but "…I hope I have been able to offer some reassurance."
He said it was largely accepted as, "…the international norm now that people should choose their own government."
Mr Longden has been in post around six weeks and is responsible for all British Overseas Territories south of the equator, saying, "I was told, however, that two thirds of my time would be spent on Falklands' issues as it is such a high priority to the British Government."
Mr Longden lives in Winchester, a city where since the late 1980s young Islanders undertake their sixth form education (funded by the Falklands Government.) Coincidentally Mr Longden's wife attended the academic institution that many Falklands students attend, Peter Symonds College.
By Lisa Watson -SeAledPR - Stanley