Oil soars to its highest in 31 months and US dollar plunges to three year low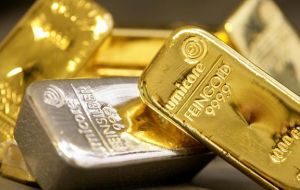 United States crude oil futures rose Thursday to hit a 31-month high settlement after a volatile trading session while the US dollar fell to a three-year low against major currencies following on the Federal Reserve's intention to keep interest rates near zero.
US gasoline futures surged for a sixth straight session, driving prices to the highest level since July 2008 as the world's top consumer gears up for the driving season in summer. Brent crude held steady after closing in on its 2011 high.
US crude for June delivery settled up 10 cents at 112.86 USD a barrel, the highest since 22 September 2008's close at 120.92 USD.
In London, ICE Brent June crude ended at 125.02 USD, off just 11 cents, after dropping to a session low of 124.07. It hit a session high of 126.66, near its 2011 high of 127.02 USD reached on April 11.
Volatile trading on both sides of the Atlantic came as other commodity soared, with silver surging to an all-time high near 50 USD an ounce and gold leaping to a lifetime high of 1,538.35 USD.
US gasoline May contract closed at 3.4298 USD a gallon, up 1.04 cents, rising for the sixth day in a row and marking the highest settlement since the July 14, 2008 close at 3.5577.
Rising pump prices have fed concern about a potential drop in demand. The US Energy Information Administration reported US oil demand in February was 762,000 barrels per day less than previously estimated, up only 9,000 bpd from a year earlier.
At the same time the US dollar weakened further on data showing economic growth slowed in the first quarter as higher food and fuel prices sent inflation to its fastest in 2 and a half years. Also the number of people seeking jobless relief unexpectedly rose last week, adding to worries about the economy.