Petrobras earmarks 73 billion USD for investment in Santos pre-salt basin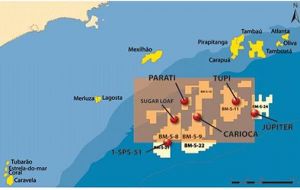 Petrobras announced the increased investment plans for the emerging Santos basin pre-salt assets, earmarking 73 billion US dollars for the 2011-2015 period. The vast sum is a 63% increase compared with the company's 2010-2014 plan said a company statement.
According to the statement the Petrobras board reviewed spending plans for the Santos basin, taking account of a reduction in costs, especially in the field of drilling and well construction and high reservoir productivity. The oil giant has also taken account of increasing volumes of oil and gas following appraisal work on fields such as Lula and Cernambi.
A new commitment to appraise and produce 5 billion barrels of oil under a federal government transfer of rights also boosted demand for capital.
The 2010-2014 capital expenditure plan outlined investments of 224 billion USD, but only 33 billion of this total was earmarked for the pre-salt assets. This compared with 75 billion dedicated to conventional assets, including "post-salt" targets in the Santos, Campos and Espirito Santos basins.
The release alto points out that the 73 billion USD commitment approved by Petrobras represents 74% of the investments that will be made in the pre-salt assets through 2015.
The remainder will be provided by Santos basin pre-salt partners such as BG Group, Repsol YPF and Galp Energia. Recoverable resources on Lula and Cernambi alone are estimated at more than 8 billion barrels of oil equivalent.
Petrobras stressed that investments through 2015 are laying the foundations of a greater investment push in the pre-salt province, but added that mid-decade expectations for pre-salt production have moved to 613,000 barrels per day (bpd), up 108,000 bpd from the 2010-2014 plan.
The Brazilian energy giant said that consequently the 2017 pre-salt target of 1 million barrels will soon be increased.