Peru accepts Ecuador maritime borders, much to Chile's chagrin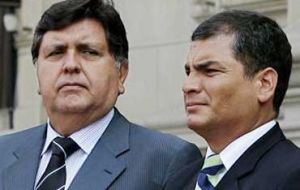 Peru recognized maritime borders with Ecuador on Monday employing the same criteria they took Chile to The Hague in 2008 for using.
In a diplomatic note sent to the United Nations on Monday, Peru officially accepted the proposal Ecuador submitted in March, despite the fact that Quito proposed the same limits that Chile is defending before The Hague – the border agreements signed by Ecuador, Peru, and Chile in 1952 and 1954.
The maritime disputes date back over 120 years to the War of the Pacific.
On Monday evening Chile's President Sebastián Piñera asked his Ecuadorian counterpart, Rafael Correa, to clarify comments by Peruvian President Alan García on the nations' maritime borders agreement.
García publicly announced that Peru's "exchange of border documents" with Ecuador "greatly strengthens our case at The Hague." Officials in Santiago, however, were not impressed, alluding to the hypocrisy of the move.
Peru's UN representative said Monday that Ecuador's proposed limits were accepted based on the 1952 treaty allowing for a demarcation line to be established through a parallel 200 miles away when there are islands close to the border.
The Peruvian government said that it did not accept similar limits with Chile where there are no border islands.
Chile authorities point to two Peruvian contradictions. First, until now Peru has maintained that the 1952 and 1954 agreements were only for fishing limits, and not borders, as Peru's ambassador to the UN announced.
Second, Ecuador confirmed that the origin of the parallel border is in the area of Boca Capones, despite the fact that it does not comply with a Peruvian law that established maritime borders.
According to national media in Chile, government authorities believe Peru complied with Ecuador's proposal – considered a "victory" for President Correa – so Ecuador would not support Chile before The Hague. In previous months, Correa had publicly called on García to accept their borders map, or Ecuador would be "obliged" to take them to court.
Despite the frustration expressed, the Chilean government considers the move a positive step forward, as they can now use it in their defense before The Hague in July.

By Phil Locker – Santiago Times