Correa heading for referendum victory but with a lesser margin than expected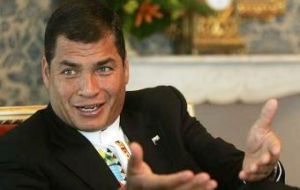 Vote count in Ecuador showed President Rafael Correa heading for a referendum victory on Thursday after he accused electoral officials of delaying the tally in pro-government regions.
Correa had already declared victory after the vote on Saturday when polls and a quick count gave him a clear lead in the referendum on ten reforms that will give him more power over the judiciary and media.
But a sluggish official tally by the National Electoral Council initially indicated two key questions were facing rejection by voters and slim support for the others. However by Thursday official counting showed all the reforms being endorsed.
"The 'Yes' vote has won in the 10 questions and it has won by a wide margin" Correa told reporters, while conceding that early polls showing an overwhelming victory had been wrong.
"We're happy because we're having a clear electoral victory, and the opposition is also happy because they expected a heavier defeat. We're all happy," he said.
With 67% of ballots counted, pro-Correa "Yes" votes on the questions ranged from 44 to 49%, while the "No" vote was between 41 and 44%.
Correa says the reforms are needed to get rid of corrupt and inefficient judges and let police fight crime better, which is a huge concern in the country.
Opposition leaders say the reforms are a power grab and fear he will appoint allies to top courts. They say a proposal to create a media watchdog threatens freedom of expression.
The referendum has widely been seen as a plebiscite on the president's popularity, since polls showed supporters planned to endorse the reforms -- even though they did not grasp them.
Five of the 10 referendum questions proposed by Correa aim to amend articles of the Constitution and the other five will require new laws. According Ecuadorian law, in order to be approved, the referendum needs half plus one of all valid votes for each question to pass.
In spite of opposition claims of fraud and ballot box stuffing, observers from de Organization of American States said on Monday that "there is no evidence of fraud," but admitted said there were major weaknesses in the training of members who ran the voting tables.